09 November 2018
White House uses video from Yorkshire far-right activist to justify CNN ban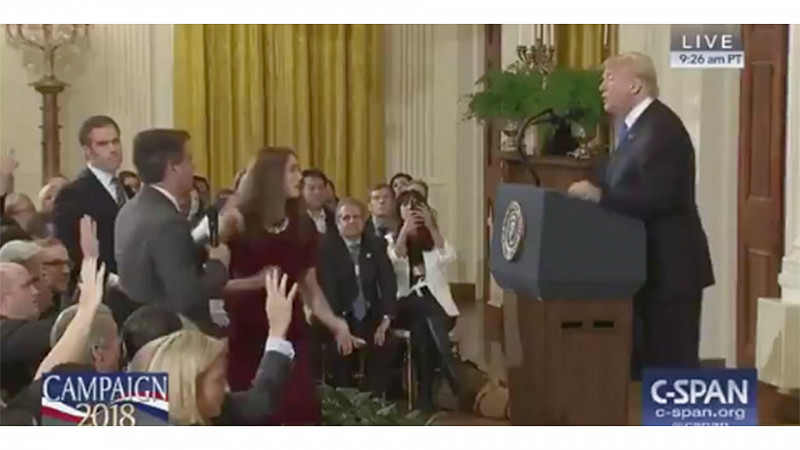 A re-edited video, posted by a Sheffield far-right activist , has become the centre of another fall about between the media and the Trump administration.
Earlier this week, The White House suspended the credentials of CNN's chief  White House correspondent, Jim Acosta.
He was trying to ask a question at a news conference with President Trump, when a worker tried to grab the microphone from him.
The press secretary, Sarah Huckerbee Sanders, later said that his access was removed because he had "put his hands on a young woman," adding on Twitter:
"The fact that CNN is proud of the way their employee behaved is not only disgusting, it's an example of their outrageous disregard for everyone, including young women, who work in this Administration."
CNN refuted this stating that the revocation of his pass "was done in retaliation for his challenging questions at today's press conference."
The statement continued:
"In an explanation, Press Secretary Sarah Sanders lied. She provided fraudulent accusations and cited an incident that never happened. This unprecedented decision is a threat to our democracy and the country deserves better. Jim Acosta has our full support."
Acosta has since been supported by colleagues from around the world, as well as the NUJ in the UK:
"The NUJ joins the journalist community around the globe in condemning this blatant attack on the freedom of the press on the ridiculous grounds that he manhandled an intern, sent to grab back a microphone," said Michelle Stanistreet, the NUJ general secretary.
"We send our solidarity to Jim Acosta and CNN and support their right to hold the president and all those in power to account. The whole press conference was a disgrace. Donald Trump's boorish and irrational behaviour is not only unfitting for his office, it is chilling."
The story gained further controversy though, when Sarah Sanders shared a video thought to made by the InfoWars editor, Paul Joseph Watson, who was born and raised in Sheffield.
We stand by our decision to revoke this individual's hard pass. We will not tolerate the inappropriate behavior clearly documented in this video. pic.twitter.com/T8X1Ng912y

— Sarah Sanders (@PressSec) 8 November 2018
Watson has denied "doctoring" the footage, but CNN, amongst others have accused the White House of not just sharing the "misleading" video, but also using a post from a "far-right personality" with a "fringe media organisation" to justify banning a CNN chief correspondent.
InfoWars and its founder, Alex Jones have officially been banned from a number of social media platforms, including Twitter, Facebook, Apple, YouTube and Spotifty. Twitter explained that its decision was due to "numerous violations and warnings."
However, Watson, who recently became a member of UKIP, remains on the sites.