20 September 2018
Oldham Times demonstrates "how important having a local paper fighting for its community still is"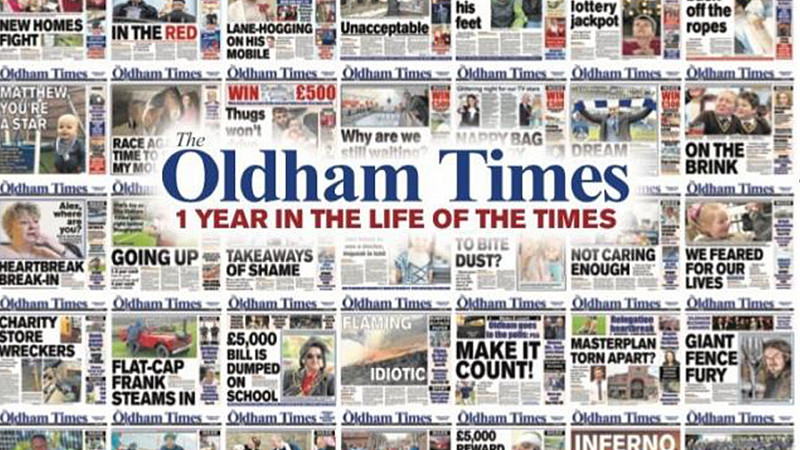 The Oldham Times is printing its first anniversary edition today, with a revamp of the newspaper.
It was introduced by Newsquest shortly after the publishers of The Oldham Chronicle went into administration, ending a 163 year association with the area.
Karl Holbrook, who became editor in August, is using today's edition to launch a new campaign, highlighting the town's unsung heroes. There will also be a 24-page supplement looking back over the last 12 months.
"The Oldham Times is a fantastic paper and its success in such a short period of time goes to show just how important having a local paper fighting for its community still is," he said.
"We are delighted to be celebrating this landmark anniversary both by looking back at some of our highlights but also by looking to the future with the launch of our new campaign and some fab new platforms designed to give the print and online products a fresh perspective."
The platforms include a 2-page special report, new-look justice page, 2 new lifestyle areas and an 8 page puzzle section. There will also be greater focus on the website.
"It has been a massive first year for The Oldham Times, 52 editions which have seen us cover every aspect of everyday life in the borough," added content editor David Rigby.
"This anniversary edition will see us introduce new features and a revamped format, while retaining our core objective of bringing you the news, good, bad, funny or sad, from your area. I must personally give a huge thanks to our readers, contributors and advertisers for their unwavering support for our new paper.
"We had big shoes to fill with the demise of the Oldham Evening Chronicle, and look forward to an even more successful year as we strive to uphold the traditions of good, honest, and unbiased reporting."