04 August 2020
Welcome Back Project competition winners to have artwork displayed across Leeds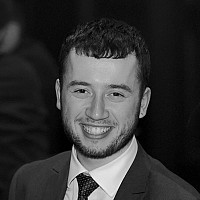 The winners of a competition which invited young people to design an advert welcoming people back to the City of Leeds have been announced.
The 'Welcome Back Project', developed by creative agency McCann Leeds in collaboration with Ahead Partnership and with support from Leeds City Council, will see the winning artwork displayed across the city.
Channel 4 and the University of Leeds were also involved in helping channel the creativity of the region's young people into a project that would give the city a voice following the global pandemic.
Open to those aged 11 to 19, the competition invited entrants to come up with an idea for an advert – a poster, poem, or video – which would welcome people back to the city.
Parthenope Wald-Harding, aged 18 and studying at Chethams School of Music, has been selected as the overall winner of the competition following her submission of an animation set to music that she composed herself.
The short animation shows a cyclist riding through Leeds and showcases not just the city's physical attributes but also the people that reside there.  
Her submission has been adapted for screens and combined with elements from the Silver award winner, Wetherby High student Zainab Naeem, aged 15, to create a film that is now being shown across the City including in Millennium Square and Trinity Leeds Shopping Centre.
Gavin Shore, Executive Creative Director at McCann Leeds and head judge of the Welcome Back Project said: "We're firm believers in creativity as a catalyst for change and believe this is an opportunity to give young people a voice as well as bring people back together as the restrictions are slowly eased.
"Parthenope's winning submission was simply outstanding. A stunning musical composition, complete with an animation that could easily be professional. We were blown away by not just the quality of this work but also how well it answered the brief."
Parthenope said: "I enjoy composing music so when I heard about the welcome back competition, I felt inspired to create a piece that reflected the hardships people have suffered as a result of the pandemic but also evoked feelings of hope and joy as we emerge from it. I was aware that my entry must also contain a visual element, so decided to create an animation, and pair this with the end of the song I composed and recorded.
The competition was launched in association with Ahead Partnership – an organisation that works to connect businesses with education to help drive social and economic change and enhance the employability of young people.
The judging panel for the competition involved distinguished figures from the likes of McCann Leeds, Channel 4, Ahead Partnership, Leeds City Council, Welcome to Yorkshire and others.