21 September 2018
BBC's Digital Cities heads to North East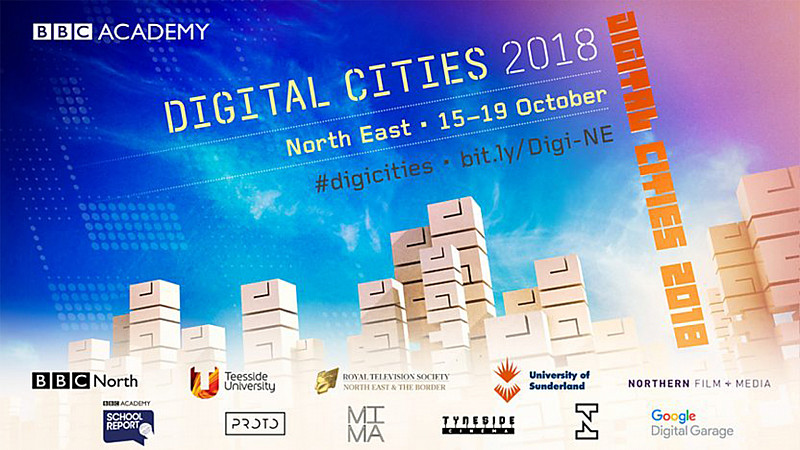 The BBC Academy is taking its Digital Cities initiative to the North East next month.
For the first time, it's not focusing on a specific city, instead events will take place across Newcastle, Gateshead, Sunderland and Middlesbrough.
It is bringing together 17 local businesses and organisations to deliver more than 35 sessions from talks and panel discussions, to VR experience and networking opportunities.
The event is free of charge and open to anyone interested in the creative industries.
Project partners include the University of Sunderland which will be talking about digital journalism; and Northern Film & Media which will be giving hands-on advice for digital freelancers.
"Opportunities to work in the film and TV industry in the region can be limited especially in the early years of your career.  The free events taking place over the week at Digital Cities are delivered by industry professionals who will give insight and pathways to help to get you on the right track.  We are excited to see how participants grow their skills, experience and networks and move forward in their careers fulfilling their potential," said John Tulip, managing director of Northern Film + Media.
Teesside University will be offering cutting-edge workshops on gaming and motion capture; and RTS North East & the Border will be encouraging delegates to examine the role of television in the digital age.
"Teesside University has an international reputation in the areas of animation, games and visual effects and, together with other prestigious organisations from across the North East, has devised an exciting and interesting week-long event which through workshops and masterclasses showcases some the world leading digital technology expertise located here in the North East of England," added Simon Stobart, dean of the School of Computing, Media and the Arts at Teesside University.