25 April 2019
UK Premiere of Maradona film to open Sheffield Doc/Fest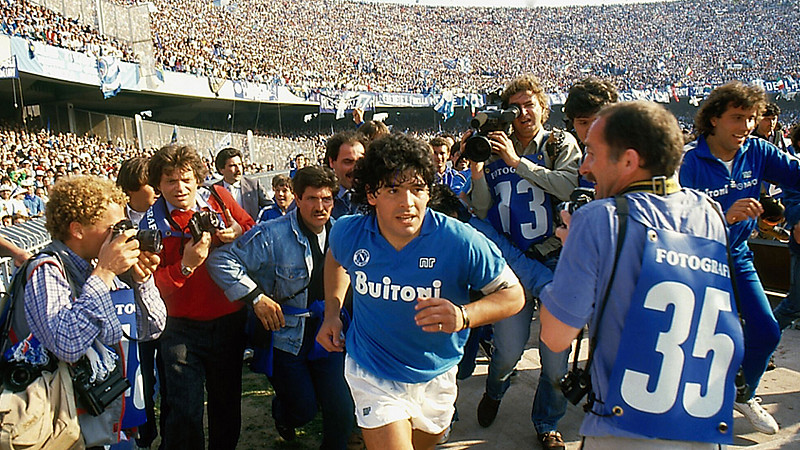 Asif Kapadia's documentary film about Diego Maradona will open this year's Sheffield Doc/Fest.
Made by the Academy Award and Bafta-winning team behind Amy and Senna, it's been produced from more than 500 hours of footage from the legendary footballer's personal archive.
The screening at Sheffield's City Hall will feature a Q&A with director, Kapadia.
"I'm incredibly proud and honoured that Diego Maradona will have its UK premiere as the opening film at Sheffield Doc/Fest. After three long, hard years making the film, my producers, crew and I are really excited to finally present the film to the UK audience," he said.
"Those with long (football related) memories will recall that Diego almost signed for Sheffield United in the late 70's, the deal fell through, (over money), so on the 6th June 2019, Diego Maradona will finally make his long awaited debut in Sheffield! Game on!"
The film looks at his life on and off the pitch, focusing on his time at Napoli, when "all hell broke loose."
"Asif's aptitude for finding the personal face behind troubled brilliance shines through in immersive, never-seen-before archive footage. We're proud to present the UK premiere of Diego Maradona as our opening of the 2019 festival," added Luke W Moody, Director of Film Programming, Sheffield Doc/Fest.
The documentary's described as "the unforgettable story of a natural-born talent, glory, despair and betrayal, of corruption and ultimately redemption."