25 April 2019
Clockwork Orange sequel uncovered in Burgess archives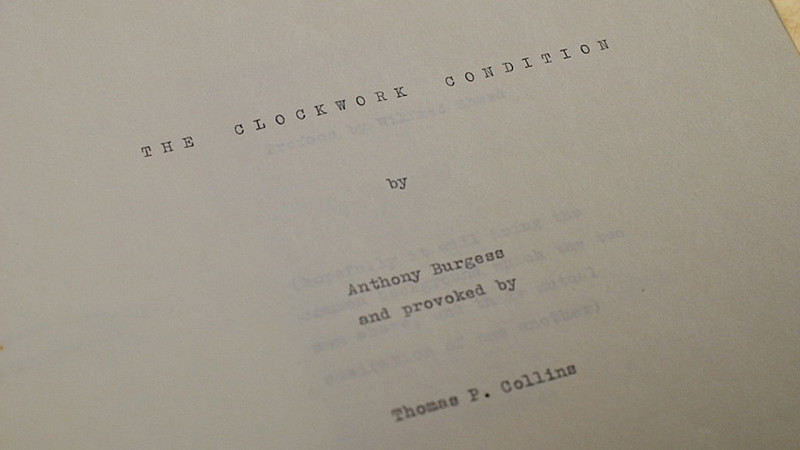 A never-before-seen sequel to A Clockwork Orange has been unearthed in the Anthony Burgess archives.
The 200-page, unfinished manuscript is a response to the moral panic surrounding Stanley Kubrick's 1971 cinema adaptation of the book.
The film was accused of inspiring copycat crimes and banned by councils across the UK. It was only after Burgess' death in 1999 that it was made available for home viewing.
The non-fiction manuscript was discovered by Andrew Biswell, Professor of Modern Literature at Manchester Metropolitan University among papers abandoned in his house in Bracciano, near Rome, where he moved in the early 1970s.
It's now being transferred to the Manchester-based Burgess Foundation.
In the manuscript, The Clockwork Condition, Burgess addresses the controversy surrounding the film and puts forward new arguments about the possible dangers of technology and visual culture, especially film and television.
"This remarkable unpublished sequel to A Clockwork Orange sheds new light on Burgess, Kubrick and the controversy surrounding the notorious novel," said Professor Biswell, who is also Director of the International Anthony Burgess Foundation.
"This is a very exciting discovery. Burgess's only public reference to The Clockwork Condition was in a 1975 interview where he suggested that it had not developed beyond the idea stage.
"Part philosophical reflection and part autobiography, The Clockwork Condition provides a context for Burgess's most famous work, and amplifies his views on crime, punishment and the possible corrupting effects of visual culture.
"It also casts fresh light on Burgess's complicated relationship with his own Clockwork Orange novel, a work that he went on revisiting until the end of his life. As the film is re-released in UK cinemas and the Design Museum launches a major Stanley Kubrick exhibition in April, now is the right moment to re-examine Burgess's complex and celebrated book."
Further correspondence between Burgess and his collaborator, Thomas Collins, shows that The Clockwork Condition was intended to be supplemented by surreal photographs and quotations from a variety of writers on the subject of freedom and the individual.
Envisaged as a philosophical work structured around Dante's Inferno, one of Burgess's favourite poems, the book was planned in sections using titles including 'Infernal Man', who was trapped in a world of machines, and 'Purgatorial Man' who was seeking to break out of the mechanical inferno.
"Eventually Burgess came to realise that the proposed non-fiction book was beyond his capabilities, as he was a novelist and not a philosopher. It was then suggested that he should publish a diary under the title 'The Year of the Clockwork Orange', but this project was also abandoned," continued Professor Biswell.
"Instead he wrote a short autobiographical novel, which also features 'clockwork' in the title – The Clockwork Testament. Published as an illustrated novel in 1974, the book engages with the same thematic material he had intended to use in The Clockwork Condition, such as good and evil, original sin, and the problems of modernity and violence."
"In theory it would be possible to create a publishable version of The Clockwork Condition. There is enough material present in the drafts and outlines to give a reasonably clear impression of what this lost Burgess book might have been."