23 August 2019
Mather & Co appoints Projects Director
Kim Kherlopian has joined Mather & Co as the Cheshire consultancy's new Projects Director.
Relocating from South Africa, Kherlopian, will oversee its future design and build projects, following a spate of recent global exhibition openings. He'll also lead on client liaison and project management.
15 years ago, he set up his own graphic design company in South Africa, which grew to employ 20 staff and complete large-scale projects, including The Springbok Experience Rugby Museum in Cape Town.
"I have joined Mather & Co at an incredibly exciting time, as there are a lot of new projects on the cards. It is a busy time for the business as it has recently opened a record number of exhibitions in just a matter of weeks, however, I am keen to get stuck in and help the team complete on-going and new projects," he said.
"I came into the museum sector in a rather roundabout way, after being introduced to it by my brother-in-law, who is an audio-visual consultant – initially, I was running a graphic design agency. This means I have seen and had a hand in multiple aspects of bringing together an exhibition. It is an exciting industry to be a part of and no two jobs are the same. I can't wait to see what we will achieve in the future."
Mather's CEO, Chris Mather first started working with Kherlopian in 2007, when the pair met at the SAB World of Beer museum in Johannesburg:
"After working alongside Kim for 15 years, we knew that he would be a valuable addition to the Mather & Co team, as he has the skills and experience of working on global projects. When I heard he was considering a move I didn't hesitate to get in touch with him.
"We're thrilled to have him on board and know that he will do an exceptional job as part of our business. There are a number of exciting projects already in the pipeline, which Kim has been able to add his unique take on, and he will no doubt help to bolster our international business offer, as we continue to cut the ribbon on so many overseas projects."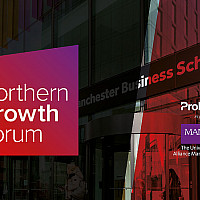 Join our exclusive half-day event for business leaders
Register your interest to attend the Northern Growth Forum