01 April 2015
Re-brand for Liverpool communications agency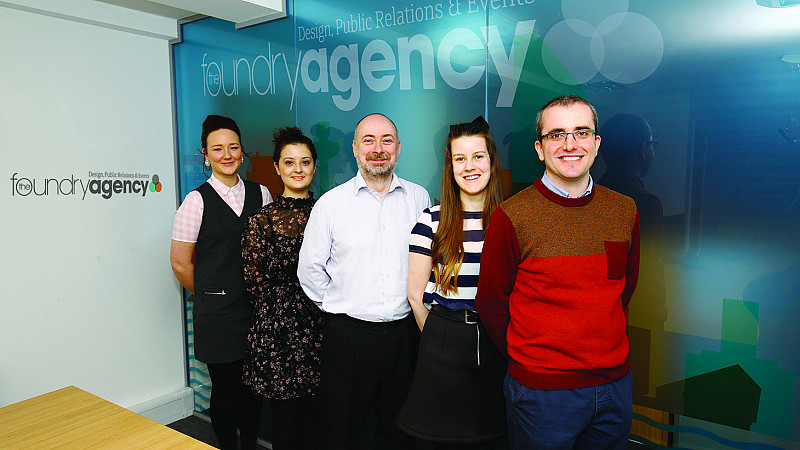 L-R - Hannah Fowler, Jennifer Chamberlain, Adrian Lloyd, Amelia Heathman & Mike Bailey
Welcome to The Foundry Agency - a Liverpool agency that has been running for more than ten years that has announced its new name and look.
Originally The Design Foundry, the recent re-brand of the agency includes the new name, The Foundry Agency, a new logo and a new vision and comes as the agency expands its PR and event offering, to create a fully integrated agency.
Head of design Adrian Lloyd, said: "In recent years, the Design Foundry has undergone big changes to incorporate an expansion of the PR team, that it just made sense to look at the direction it was heading in and how to change the agency to reflect that.
"The new mantra, 'joined up thinking' is a unique approach that The Foundry brings to all its clients and it's what makes the company stand out. By combining PR, events and design, it can bring an all-rounded vision and adapt it to the clients' needs, whether they need a new website and social media strategy, to organising large scale events and creating great press opportunities.
"The Foundry has taken on some great new clients recently and new team members, so with the re-brand, and the new team, it really is an exciting time to be part of The Foundry Agency."
Clients include developers such as TJ Thomas Estates Group and Neptune Investments and housing developments including The Bakestones and Riverside Home Ownership, a subsidiary of The Riverside Group. The Foundry's work ranges from print brochures and website design to copywriting, social media and public relations.