05 May 2022
How big data is shedding light on UK supermarkets' performance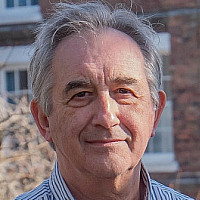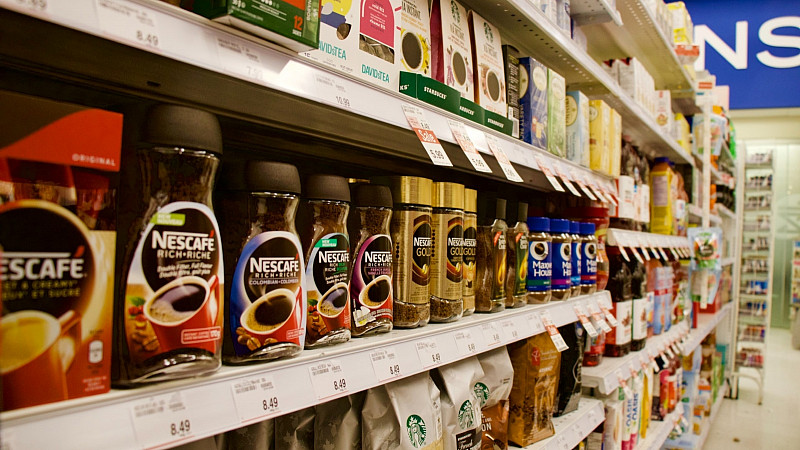 With supermarket aisles on the front line of the battle for consumers' increasingly thin resources, reputation has rarely been more important in influencing choice. Using data from its Media Audience Reputation Index, Mark Westaby, from Manchester-based Metricomm, identifies how online media coverage is closely linked to performance. 
The dramatically increasing cost of living is putting retailers under renewed pressure as households struggle to meet rising prices, with energy bills, especially, taking an increasing slice out of the monthly wage packet.
Nowhere is this more acute than in the grocery sector. Supermarkets battling for market share are fighting to maintain margins, with costs predicted to rise significantly as a direct result of Russia's invasion of Ukraine, a country that produces significant volumes of key ingredients for foodstuffs, such as grain and sunflower oil.
A key question that inevitably arises when retailers are under such pressure is who will be the winners and who will be the losers? While it would be foolish for anyone to claim they have a crystal ball, particularly during such turbulent times, there are indicators that can provide at least some basis on which the direction of market travel can be tracked.
The relationship between online media coverage and consumer interest
Metricomm's research has revealed a strong relationship between audiences generated by online media coverage and consumer interest in the form of Google searches, which is an excellent proxy for consideration. This relationship also extends to market share and sales.
Combining trends for audiences generated by online media coverage with Google search trends provides a simple but effective indicator of how an organisation's reputation is developing. We call this simple metric the Media Audience Reputation Index, or MARI. Just as a listed company's share price reflects overall market sentiment, so MARI reflects the multiple factors that contribute to reputation and market share.
Above: Monthly MARI data for Aldi, Lidl and Tesco from 2016-22, reflecting the German retailers' rapid growth and Tesco's decline up to 2019
As well as its simplicity, the beauty of MARI is that it's a vector metric, which as those who remember school maths might recall, means it has direction as well as magnitude. The above chart shows monthly MARI data for Aldi, Lidl and Tesco, going back to 2016, reflecting the German retailers' rapid growth and Tesco's decline up to 2019. The chart also reflects how Aldi has established itself more firmly than Lidl, to the extent that the former is now viewed as a direct threat to the dominant UK Big Four – Tesco, Asda, Sainsbury's and Morrisons – leading the British retailers little option but to take on Aldi in a margin-crushing price war.
Although the success of Aldi and Lidl has undoubtedly been down to low prices, the companies have shrugged off the 'discount store' label attached to them in the early days. Now it is not unusual to find them in affluent areas more traditionally associated with Waitrose, whose own fortunes have seen a downturn in recent years.
The big supermarkets fight back
While industry commentators offer a variety of different reasons for their success, a key reason Lidl and Aldi have been able to disrupt the UK market is down to margins. Traditionally high for all the main UK grocery chains, consumers have more recently turned their backs on the justifications used for fat profits, including service, loyalty cards and even – in the case of Waitrose – snob value, though that, of course, was never official positioning! Meanwhile, Aldi and Lidl increasingly offered more and more of the higher-end products needed to attract UK consumers for the weekly shop.
Although caught off-guard by Aldi and Lidl, over the past two to three years the big supermarkets have begun to fight back. Aided by the pandemic, which saw sales soar, as well as the move to online deliveries and price-matching, Tesco, in particular, has delivered strong results. MARI now sees Tesco and Aldi neck-and-neck as the UK economy struggles to cope with acute inflation and consumers battle with a rapidly worsening cost-of-living crisis.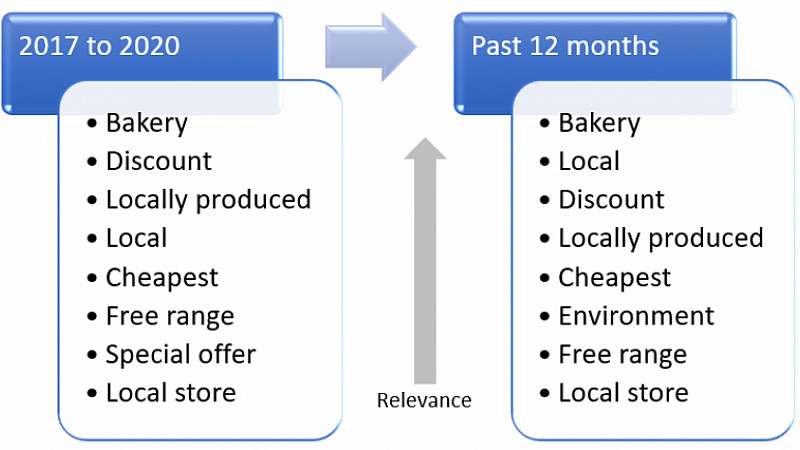 As well as providing the basis for comparing performance, in this case for the UK grocery retail sector, MARI data can also be used to gain insights into individual brands. Sticking with German retailers, in this case Lidl, we can use machine learning to determine topics, themes and issues most closely associated with the brand through online media coverage over different periods of time.
Figure 2 compares results for Lidl for the period between 2017 and 2020, prior to the covid pandemic, with the past 12 months as UK lockdown measures have been eased and finally removed. Apart from Lidl's clear positioning on low cost and 'local' – the retailer apparently being keen to establish its UK credentials post-Brexit – by far the strongest topic associated with the brand through online media coverage has been its bakery.
This signals what appears to be an effort by Lidl to put clear water between it and Aldi, perhaps in recognition of and response to the price war given the brand's existing reputation for low-cost products. Time will tell whether this succeeds, but keeping a close eye on the performance of UK supermarkets through MARI will provide at least some pointers as to the direction of travel.
To explore the data for all UK supermarkets between February 2016 and April 2022, visit MARI