29 November 2021
A Week in My Life: Rik Courtney, Founder, Be More Social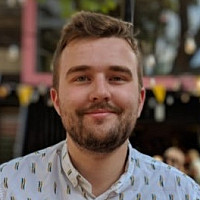 Rik Courtney is the Founder and CEO of Be More Social, a Doncaster-based social media marketing and communications agency.
Be More Social is a successful and award-winning agency, and works with clients including NatWest and the Federation of Small Businesses. It also forms part of the Be More Group, which also includes Consultive.io.
He is a public speaker and workshop leader, and has set up franchises in the specialism across the country.
We saw how a recent week in his life looked...
Monday
Monday is my favourite day of the week. My alarm is set for 4:45 am but I usually wake up before because I'm eager and raring to go. 
I arrive at the office for 5:30am and this is the time where I work on those luxury items. It could be anything that I've not had the chance to do the previous week between 9am and 5pm. I find it difficult to concentrate and focus on specific tasks when there is a buzz in the office. I'm keen to be a part of it so I use my early mornings to focus on the finer details of my business: I call it my creative space.
At 7:30am, I pop back home and take my eldest son to school to ensure he doesn't get up to any bother. I return back to the office at 8am - leaving just enough time to make a cup of tea and have a quick game of pool with the early birds.
Our management team meeting, titled 'Real Talk', starts at 9am. This is where we look at the biggest wins from last week, any issues we may have had, and opportunities, next steps and action points for the week ahead.
I then spend the rest of the morning checking in with team members and preparing for the Lunchtime Livestream session that I deliver to all our customers at midday.
Monday afternoon for me is always our default video shooting day. We spend between one and two hours shooting the next Be More Social YouTube video and any marketing or advertising videos we need for our social media accounts.
My day generally doesn't stop at 5pm. After everyone has left, usually by 6pm, I like to stay and have some more creative space. 
Tuesday
I arrive at the office at 5:30am where I prepare for the day ahead.
Tuesday is one of two coaching and delivery days. 
The Business Blueprint course runs from 10-11:30am, where I work with a specific group of clients on how to build a successful marketing plan, what it looks like to create a working sales funnel, systems, processes and time management tools. We also cover how to keep your head in the game, which gives them their roadmap to business success.
Alongside this, I also keep Tuesday free for any other premium clients that we work with. 
Alternatively, if I don't have any sessions scheduled, I use this time to add touchpoints with prospective clients for high ticket items. 
The last hour of my day is spent filling in my focus sheet for my business coach. At the end of the day between 5pm and 9pm, I generally use this as a creative time to go through presentations, pitch decks, and proposals.
Wednesday
Wednesday is my second coaching day of the week. I use this time to work with my clients on a one-to-one basis. My premium clients have the opportunity to book time into my diary via their dashboard, so the majority of my day is used for this.
With any time left over I use it to prepare for the webinars I host on Friday, as these can change at short notice. 
Thursday
Today I'm working on my business, not in it. This is the Be More Group day. 
This is another one of my favourite days of the week because it allows me to remove myself from day-to-day responsibilities, dream big and focus. I go easy on myself, getting to the office at 8am after I've dropped my kids at school. 
I work on the vision for the Be More Group, which is to establish ourselves as the go-to experience for enriching your life and your business. We are also in the process of building some new brands called Be More Active and Be More Successful in 2022, so Thursday is my day to work on the development of these.
My day revolves around putting plans in place and establishing time scales for the completion of a staged release for each of the projects. Some of this time is also used for collaboration with key team members who are involved.
Today, I get home at 6pm so I can have tea with the kids - I always make sure I do this on a Thursday.
Friday
Today is webinar day. I play some loud, motivational music first thing in the morning from 9-10am, which the team - most of them - loves and this also helps me get pumped for delivering my webinars.
Doing all my keynotes and talks over the last 18 months online has been a completely different experience to delivering in-person. This means I've had to adapt my approach slightly. 
I hold both morning and afternoon webinar sessions. I start the first session at 10am which usually lasts until 12pm. Then I host a marketing masterclass that starts at 2pm. 
To celebrate the end of the week, I have a beer with the team and play and a few games of pool. We also use this time to reflect on our successes and the targets we've achieved.