21 October 2019
A Week in My Life: Chris Brereton, Programme Editor for Reach Sport's official Rugby World Cup magazine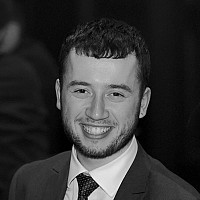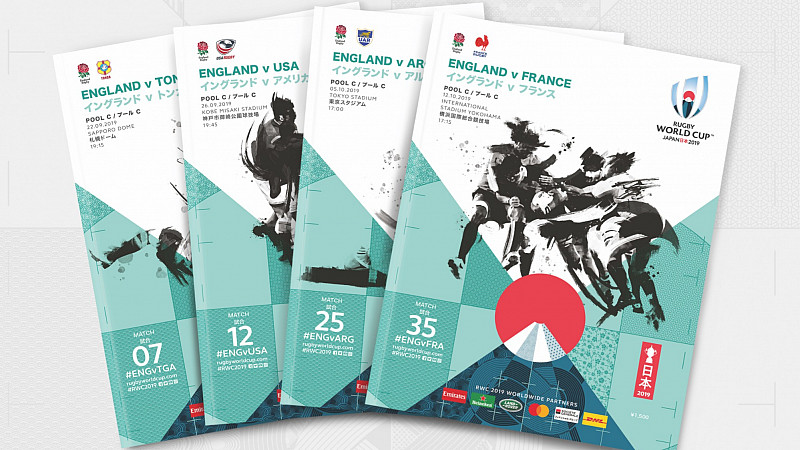 The England rugby team's campaign to win the world cup in Japan continues after a big win in the quarter-finals this weekend against Australia. 
Reach Sport is the company behind the 48 matchday programmes for the 2019 Rugby World Cup in Japan, and they were also the publisher of the Rugby World Rugby in 2015.
As you can expect, as Programme Editor, Chris has been incredibly busy working on the official magazine this last month.
Somehow, he's found time to share with everyone what a week on this project entails, describing it as "exhilarating, exhausting, thrilling, terrifying and satisfying."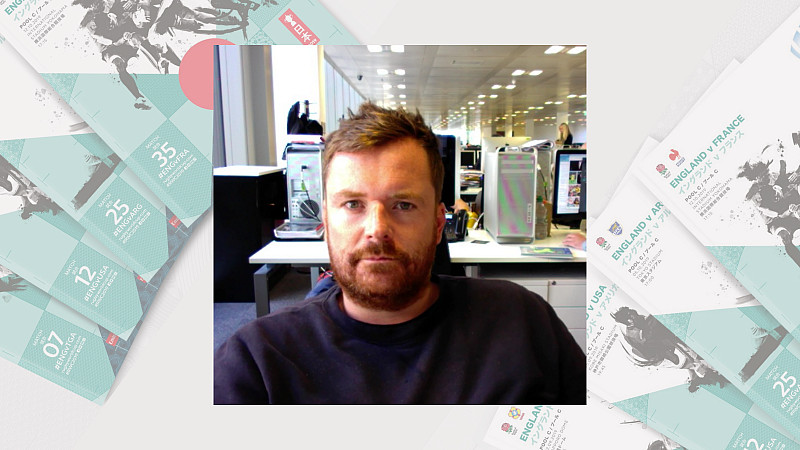 Monday, October 7
Reach Sport is producing the 48 matchday programmes for the 2019 Rugby World Cup in Japan, building on the success of our work with World Rugby in 2015, when we also won the same contract. We were also the publishers for the 2018 FIFA World Cup in Russia and will be returning to football for the Euros next year. All this from a corner office in Liverpool, a fact that constantly amazes people, as if they never considered that such amazingly large and important tournaments could include a company not based in London. Well, they can. And they do. 
I have the title of 'editor' of these programmes but, in truth, there's no real hierarchy, no real pyramid with me sat at the top. Reach Sport is more egalitarian than that and when it comes to the art of getting a programme out nobody is more important than anybody else. If it wasn't for the planning ability of Adam Oldfield and Paul Dove, the business strategy of Commercial Director Will Beedles and MD Steve Hanrahan, as well as the efforts of everybody at the World Rugby end of the production process, there would be no programme to edit in the first place.
It is everything you would want from your working life, particularly a working life in publishing. It is exhilarating, exhausting, thrilling, terrifying, satisfying and a host of other 'ings'. The office clock runs on fast forward, and you never quite feel like you're on top of everything. It is also so immersive and all-encompassing that everything else fades into the background. How is David Cameron getting on in No.10? Are Manchester United still on to win the title?...
Tuesday, October 8
We have 5568 pages to get to print in six weeks, on the other side of the planet, in two languages, with 1.8 million fans walking past our programmes at the grounds. 
That is quite some challenge and one we have been working towards for 18 months. However, nobody in publishing can possibly anticipate a typhoon. It became clear today that Typhoon Hagibis is going to make landfall on Japan at some point in the next 48-72 hours. Rugby World Cup 2019 – the tournament, the matches, the programmes – fall away to nothing compared with the risk to life and property that Hagibis represents. We spend the day liaising with World Rugby staff, watching television news reports, scouring the internet for as much information as we can. Amidst all that uncertainty, we continue our plans, putting the finishing touches to programmes for New Zealand v Italy, England v France, Ireland v Samoa, Namibia v Canada, USA v Tonga, Wales v Uruguay and Japan v Scotland.
At this moment in time, we don't know what matches will be played and which might be cancelled. What is certain is this; the work done by chief sub Roy Gilfoyle, designers Chris Collins and Rick Cooke and sub Richard Williamson is sublime. The pages look amazing, the copy is tight and bright, the Japanese translations spot on and the programmes entertaining, informative and interesting. If Hagibis hits and matches are lost then we will watch on with the rest of the world with our fingers crossed. If the matches do get played, excellent – there's a programme at the ground that will more than do justice to the size and scale of this brilliant tournament. 
Wednesday, October 9
I make no apologies for saying that we run big-tournament publications in a decidedly old-fashioned manner and today is no different. I'm sure there are newfangled ways to prepare for the printing of 5568 pages. I'm sure you could track it online, on a pretty looking database, with different fonts for different sections, sticky notes aplenty and so on. 
Well, we prefer the foolproof methods of old. Roy Gilfoyle, the chief sub, is a man so adept at planning complex processes, and so unflappable, that he could've organised the D-Day landings in his lunchbreak (Ha! Lunch breaks! Remember those?). After months of discussions with World Rugby on content, Roy came up with 48 flat-plans, one for each game, printed on actual paper. 
These are covered in scribbles, highlighter marks, advert placements, moved advert placements, adverts moved back to their original placements after a 14th different phonecall... and, crucially, a big tick when it's translated, on the page, approved and off to print. 
It has been like this for months, a mountain of documents with Roy keeping track of where we're up to and what we still need. It's then been my job to get it, contacting freelancers around the world (pre-tournament) and then across Japan during the event itself to get quick, reactive, lively copy. A decade on Fleet Street meant I have enough rugby contacts to always be able to get content when we require it and freelancers like the kudos that comes with appearing in the official programmes so I'm often inundated with offers. 
It's a nice place to be, knowing that whatever happens, we can react and respond and produce a programme that reflects the tournament itself. Sometimes that means the flat-plans get re-started or changed considerably which, as we all know, is just the name of the game. When South Africa lost to Japan at RWC 2015, I reshaped the copy and content plan for their next two respective matches overnight, ringing the boss to ask him where the light switch was for the office – one of those adrenaline all-nighters that we claim to hate but we all know we secretly love.
As for those precious flat-plans, well they should be like government documents, transported around in a red box, shadowed by bodyguards at all times. In truth, as always, they lie on our desks at the end of another long day, scribbled on, covered in coffee rings and whatever food we've managed to shovel down in the nine-second window we found in the day. Journalism; it's all glamour, right? 
Thursday, October 10
Typhoon Hagibis has prompted the cancellations of New Zealand v Italy and England v France. It is undeniably the right call. What are 80 minutes of sport compared to the risk of life? It means two of our programmes are pulled off the plates at the last minute even though 99 percent of them were already printed. Indeed, we were only waiting for the final page, pg114, with the updated starting line-ups and we would have been completely finished. Our disappointment at that is obviously tempered by the wider picture. In the meantime I've fielded calls from several mates, all asking if the programmes had been printed. Eyeing the chance to make a few bob online, they wanted a copy or 10 of the programme from the phantom games. It's amazing how popular sports journalists become during major tournaments or when last-minute Christmas presents need buying... 
The loss of those matches means an enormous amount of energy has gone into a product that will not exist and a lot of plans that will not now come to fruition. Yet, we're all safe and sound, the winds will die down and the world will keep turning. It's only sport.
In the meantime, we have already turned our attentions to the quarter-final fixtures which may well be nine days away but will be here in an instant. Science was never my thing at school but if that Einstein chap wanted to prove that time is relative, he didn't need algebra, he needed to edit the Rugby World Cup programmes. I cannot quite believe where three weeks have gone. A blur of emails, re-writes, approvals, PDFs. And Greggs. Way too much Greggs. 
We await this weekend's matches to see how the final permutations will play out. In a live tournament, you can prepare the first 20 or so programmes quite far in advance and then add some late polish once you know how the games are developing. However, when you get to the business end, everything is as 'live' as can be – you have to know the outcomes of matches before you know what your programme is going to contain. It is the equivalent of being a night desk editor in a newspaper, staring at a blank page at 6pm, deeply uncomfortable about the fact you don't know how you're going to fill it. Our flat-plans by this stage are as flexible as they're going to get. The adverts are known – and not much else. I spend the day briefing freelancers on what we're likely to need and when. If Japan beat Scotland on Sunday they will be through to the quarter-finals for the first time ever and Japan is going to go crazy. As neutral as we are, you can't stop yourself from wanting it to happen. It will set the tournament alight – and hopefully, see our programmes fly off the stands.
Today is a day of emails. We are in a production lull now – the first 40 programmes are all behind us – the next few days are all about preparing the last eight. Freelancers are primed and ready, we just have to see how the matches unfold and see when we can get our hands on the necessary copy to get the quarter-final programmes up to date and up to scratch.
Friday, October 11
We continue to await Saturday's matches and we send the final teamsheets to print for Namibia v Canada, USA v Tonga, Wales v Uruguay and Japan v Scotland. Unfortunately, it looks like Namibia v Canada will also fall foul of Typhoon Hagibis. Again, any plans to call the match off is correct. The game is due to be played at the Kamaishi Recovery Memorial Stadium, a ground built to help the area continue its recovery from the Tōhoku earthquake and tsunami in 2011. With over a 1000 people killed in that disaster, the people in that area, unfortunately, know more than most that a sporting event is not worth dying for. We will see over the weekend what games go ahead. 
Meanwhile, the quarter-final programmes race along. We have taken an educated guess on the make-up of three of the quarter-finals, the only one we are unsure of is Pool A. Which two from Japan, Ireland and Scotland will make it? Only Sunday will tell us. In the meantime, I'm on the phone to journalists, chasing copy, flowing it into InDesign, checking pages, sending them for translation and tipping caffeine all over Roy's lovely, work-of-art flat-plans. There are only eight of them left on my desk now. Soon that will be four. Then two. Then none.
In a fortnight's time, this will all be over and we will have 48 programmes in the bag, off to print and in the hands of rugby fans all over the world, celebrating the tournament and the sport. Will I miss it? Yes and no. Being at the epicentre of a major sporting tournament is a unique and arguably career-defining role. Just like 2015, it's been a hell of a challenge with plenty of fun along the way. Yet, equally, it's the publishing equivalent of flying a plane. Sure, you've prepared and trained for it and you have all the experience and skills you need to do the job right. But you cannot tell me there's a pilot anywhere in the world that doesn't feel at least the slightest frisson of relief when those wheels hit the tarmac and the flight is safely over, job done to the best ability with no disasters. 
It'll be nice for there to be no more PDFing, no more making amends in Japanese, no more adverts, no more 3am starts, no more flat-plans... And no more Greggs. Especially the Greggs.