29 May 2013
What I've Learnt: Rob Morrice, CEO Stein IAS (EMEA & Asia)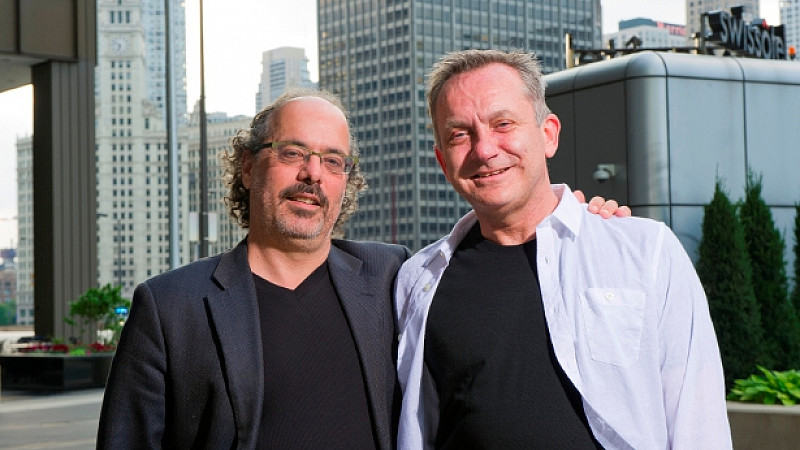 From Aberdeen to Bollington to Shanghai by way of Edinburgh, Rob Morrice has built two successful ad agencies, one consumer and one business to business. The latter has gone global and recently merged with Stein of New York. But Morrice wears his scars with pride and believes (modestly) it's his generosity of spirit combined with a touch of courage and willingness to keep on learning that has enabled him to become a millionaire, twice over.
(Rob Morrice is the third in our series of 'What I've Learnt' following Neil McKay of Lakestar McCann and Nicky Unsworth of BJL).
You wouldn't instinctively associate Rob Morrice with Don Draper - the central character in the Mad Men TV series - but the two were both working as sales assistants in clothes shops when they blagged jobs as copywriters in ad agencies: mythical Draper in New York and more prosaic Morrice in Aberdeen.
The Aberdonian-born and raised man says he's been lucky although he concedes his working life has been defined by a series of events he has largely determined.
After school, he took an apprenticeship with DC Thomson in Dundee as a cub reporter learning the trade from the ground up, working across news, sport, features and subbing. After a year, he was asked to concentrate on sport and at the tender age of 19 he filed 750 words on the Scottish cup final for the Dundee Evening Telegraph.
Forty years covering footy didn't appeal
He spent two enjoyable years on the sports desk but decided he didn't want to spend the rest of his life covering sport so he went back to Aberdeen to spend six months as the afore-mentioned sales assistant while he pondered what to do.
An opportunity arose to join a small local ad agency as a copywriter and he threw himself into the role, so much so that, not long after, a rival larger agency approached him to join them. The deciding matter for Morrice was their offer of a 2%  stake in the agency.  "Although still relatively young, the offer of a stake meant something more to me" he recalls.
Aberdeen was and remains a marginal town in advertising terms but the oil industry was booming and the agency prospered on a clutch of oil-related accounts and Morrice revelled in what he initially saw as an exciting and well-paid world before his increasing infatuation and love for the advertising business forced him after five years to reach the conclusion - as he had earlier with DC Thomson - that if he was to really get on, he had to move on from Aberdeen and participate more fully in a world where bigger brands and bigger ad talent went hand in hand.
So he moved to Baillie Marshall, at the time one of Scotland's biggest agencies with offices in Glasgow and Edinburgh.
"I've always had an ability to work my way to the top quickly and within a few months of joining BM, I was tasked with establishing a new specialist design subsidiary for the company."
Skin in the game
During his three year spell running the subsidiary, his team oversaw the creation of 18 new brand identities for Scottish companies but the experience of building something from the ground up had given him a yearning to try it for himself. "There was and is " he said "always something about having some 'skin in the game'."
So Morrice and two colleagues from BM together with another director who had relocated back to Scotland, set up Smarts, an ambitious  'creatively-led' agency with offices in both Edinburgh and Glasgow. Funding came from £38,000 of private savings matched by a bank overdraft and the four partners had 25% of the equity each.  "As a matter of honour" said Morrice "We refused to take or pitch for any BM clients."
Rob Morrice young Turk
What followed says Morrice "were 10 amazing years of my life."
He had come fully into his own and as the leader of the gang, he quickly learnt the value of sound-bites and "saying things that weren't boring and making headlines in the gold fish bowl that is Scotland. My colleagues recognised that I was very driven and had the most brains among the four of us."
Smarts picked up a reputation as an agency - the only one according to Morrice – that   actually marketed itself as well as its clients. "We made a point" he says "of creating remarkable, striking advertising that made its point effectively and with as much fuss as possible. At one stage, there was even a question raised in the House of Commons about the racist nature of our advertising work for our client the SNP."
On the back of a blue-chip roster of clients including NEC, Belhaven Brewery, the Scotsman, the RBS and Prudential Insurance, the agency prospered and by 1999 had grown into a 30 strong outfit with circa £2m in fees making £400k of profit and sitting very comfortably on £700k of cash in the bank.
Morrice had also by this time, with one of the other founding partners, bought the other 50% of the equity they didn't own.
As the business grew and the cash balance got chunkier, they started receiving several expressions of interest before deciding in April 2000 that an offer of £2.5m (plus keeping the £700k in the bank) from Citigate, part of the Incepta group, was too tempting to turn down.
Reading the writing on the wall
But equally as compelling as the cash,  Morrice also believed the tide was turning in Scotland and the future lay elsewhere. "I could see that the Scottish marketing community was in decline.
"All the large Scottish brands in finance, drinks and retail were changing hands and their advertising and marketing was being transferred to London or elsewhere. And what was making it worse was that Scottish agencies feeding off the declining market weren't adapting or changing with the times themselves which meant that what once was a thriving community was  becoming more insular and negative, which is hardly an attractive proposition for ambitious marketing folk."
Morrice's new role as MD of Citigate Smarts meant he had control over not just Scotland but also offices in Manchester, Leeds, Birmingham and Belfast.
But as time went on, he discovered "the job had changed from actively running an agency to overseeing half a dozen offices and I hated it. It was shit."
In retrospect for Morrice, the 'admin' years, were the only ones of his working life, he didn't enjoy. But he stayed as the agency went through several guises of ownership as he says he simply couldn't think of anything better to do at the time and he had a secret plan which would allow him to jack it all in and go study ancient history at University.
Industrial Art Services - IAS
But in 2005 and now part of the AIM-listed Media Square, circumstances changed with the acquisition of IAS in Bollington as Morrice was tasked with finding a new MD to replace IAS' founder Tim Hazlehurst.
As he began a new interim phase spending two days a week in Bollington, he underwent what he describes as his "third major consciousness awakening of his working life" as he suddenly realised he was in love again with the practical needs of running an agency. And a B2B agency to boot. All of his previous  experience had been with consumer brands but once he'd scratched the surface of the B2B world, he discovered that  for him, the sector was "both more interesting and intellectually more challenging."
"I belatedly realised I was sitting on a gem and I went to Jeremy Middleton (Media Square's then CEO) and asked him if I could run IAS and drop my other responsibilities" and in  2007 his wish was realised and with his personal circumstances also changed, he relocated down to Manchester.
Share the dream
His first act was to gather the staff around and to share his dream that IAS "would be the number one B2B agency in the UK within five years and the number one internationally within 10 years."  This he said would be achieved by IAS winning bigger accounts by both raising its aspirations and by opening new physical bases in London, Paris and the US.
"We needed to move further up the food chain and it was all to be accomplished by strategic planning."
The dream began to be realised as chunky new accounts were won, turnover and profits grew strongly and first a London and then a Paris office was opened.
However, against the backdrop of optimism that IAS was enjoying as it expanded, Morrice had a major problem in that the parent company Media Square had been over-ambitious in its earlier years and when the recession hit, the company found itself with marketing budgets being sharply reduced and a £30m debt mountain it couldn't pay off.
Despite parts of Media Square being sold off or closed, the parent company was still faced with a level of debt which would realistically require several years trading to clear and the newly-installed management team led by Roger Parry and Peter Reid, opted for a pre-pack which would allow the company to effectively start again.
Morrice, faced with many sleepless nights as he wrestled with Media Square's     predicament contrasting with IAS' successes, had contemplated an MBO but after lengthy and ongoing discussions with Parry and Reid, decided that their plans and ambitions matched his and he went along with the creation of the newco, MSQ Partners in May 2012. The pre-pack resulted in 60 staff becoming shareholders with Morrice and seven others holding A class shares. In addition, Morrice and some of his IAS colleagues have an incentive arrangement which could see their holdings increase significantly if the company can meet their ambitious targets set for it by MSQ Partners.
With London, Paris and now the agency's future sorted, Morrice set about delivering the the third and final leg of his strategy, which came into being this March after a two year courtship, through the merger of IAS and the New York-based B2B agency Stein.
Stein and Morrice
Tom Stein is the CEO of Stein IAS (Americas) and president of the US arm with Morrice the CEO of the rest of the company (EMEA & Asia) which now also includes Shanghai. The share ownership is 50/50 but MSQ Partners has the option to acquire Stein's holding after three years.
Given the larger scale of the newco, Morrice believes that there are very few B2B agencies which can genuinely offer such a global footprint and given their enhanced assets, $5m plus accounts are now well within their grasp. The combined company now employs over 100 staff and commands circa £15m in revenue.
Clients include  BP Castrol, Nespresso, Atos Barnes & Noble, Chicago Board Options Exchange, Crisp Media, Iron Mountain, KPMG, Merck, Pearson and Wolters Kluwer.
An office on the West Coast of the US is planned for 2014 and in the medium term an office in Germany.
The strategy says Morrice is to look at countries where there is a big exporting base and where global advertising accounts are managed from.
And Morrice couldn't be happier.
"I'm single, half fit and I f*****g love it. I never thought I'd value advertising as much as I do now but I really do. We're truly international and B2B companies increasingly know we're simply very good at problem-solving, the more complex the better."
But although Morrice says his time now with IAS is even more fulfilling than his time with Smarts, he believes many of the same successful components are still there: generosity of spirit, courage and a desire to learn and keep learning.
The difference however is that this time, "the culture has been built deliberately, not by accident as it was at Smarts.
"We've made a point of articulating the values we wish to adopt and at the heart of these values is generosity of spirit. The best way to run a good agency and enjoy healthy client relationships is to continually think of what is most important to our clients and then work out how we can help our staff to deliver by investing in them and trusting them."