11 January 2013
Northern Monkeys - a book about growing up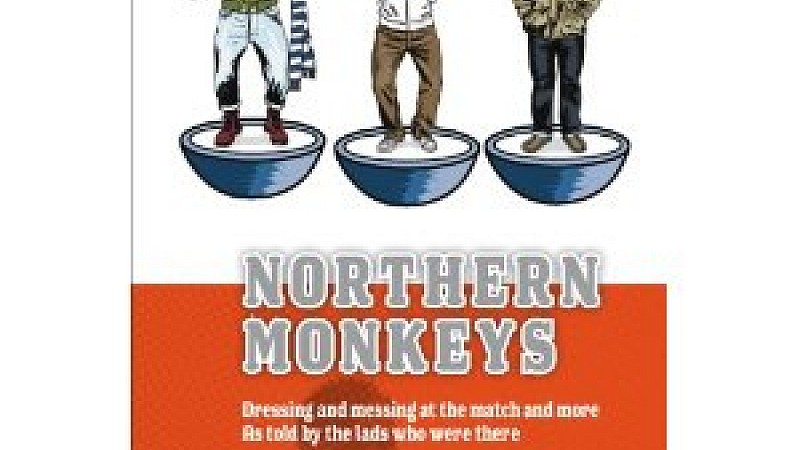 So, just what is it about the North then that makes us Northerners quietly brim with pride? Of coming from the North and also, being Northern? Being brought into the world in the North? Always wanting to come back to the magnetic North? Living and dying in the North?
And so begins a new book I've been involved in for the last year.
It covers how we dress, why we dress as we do and what the particularly Northern take has been on different musical movements and fashion cults over the last 70 years. Yes, you read that right.
This is a staggeringly wide ranging book – the author and driving force is my friend William Routledge, he's Bill to me and I'm Mick to him – we like that, us Northerners. We started wanting to capture the full essence of this 'thing' we're both into, this nameless thing that sometimes gets called casual, sometimes dresser, and mostly, back in the day at Deepdale and Ewood Park, we were just 'football lads'.
The book spans the evolution of terrace fashion from its deep roots at the end of the Second World War through youth cults, Northern working class hang outs, music, football and how those who have been touched by this world have emerged and influenced different areas of life and culture.
400 pages voiced by 40 Northern Monkeys
All the stories are told over almost 400 pages with the original voices of more than 40 upstanding Northern Monkeys, ranging from blokes touching seventy years of age, right through the spectrum down to teenagers of today and on how they perceive the subcultures/non-cults of 2013.
The decade which really formed us, the decade where it all came together is the 80s.
A decade that the North remembers in a slightly different way than the South does, probably. But this explosion of young men dressing sharply and casually for football didn't spring out of nowhere. It came from the North, of that there is no dispute, but the Southern dimension had one root, ours had another. Just as mods were different in the North to London, so were the casuals. Me and Bill had both been punks, not suburban soul boys.
But the book also captures the stories of raving and misbehaving and Madchester. Did you know there was an offshoot of the Hacienda in Blackburn?
But as well as these authentic nostalgic tales of ordinary madness, of a tender and sometimes violent Northern life, we've tried to weave in new twists and insights on our shared history from respected authors like Dave Hewitson – "The Liverpool Boys are in Town" – telling of Cunard Yanks bringing back goods to British shores from around the world and Scouse fixation for being first in, best dressed; Phil Thornton, author of Casuals, reflecting on the development of the scruff look in the mid-1980s and untold tales of 2-Tone by Ian Hough – Perry Boys & Perry Boys Abroad.
Bill has pulled together stories that tell what it was like innovating and thrill seeking through the Fifties and Sixties. Mods, boot boys, hippies, skinheads, scooter boys and the Northern Soul devotees at the Twisted Wheel, Blackpool Mecca, The Golden Torch and Wigan Casino.
But for all the recognition that casual/dressers/football lads changed fashion and culture – was it a Northern thing? West Ham terrace legend Cass Pennant also has his say with tales of travelling 'op noff' in the Seventies for football and visiting Northern Soul venues, plus his thoughts on Northern Soul when the South had gone all funky. A unique take on the rise of the casual/dresser movement with a comparison on the North-South divide in dress.
The book also features entrepreneurs who have made a decent crust connected to sportswear and its later twists and turns; Liverpool retailer Robert Wade-Smith, Adidas brand guru Gary Aspden and Barry Bown, the boss of JD Sports.
Not just hooligans...also ad men
I'm at great pains to stress that casual wasn't just a hooligan thing. Jeremy Bramwell, a leading light in advertising industry in the North has contributed his memories as one of the crowd around Marple and Manchester in the 80s. "For all our bravura we were not fighters or even runners, just daft fashion dandies, living the life and trying to keep our good looks intact."
Northern Monkeys is an astonishingly honest anthology of Northern life – chronicling a scene and providing insights into something that is so much more than just a look, but an obsession and a way of life.
There will be aspects of the book appearing in a special exhibition at the National Football Museum in Manchester – Strike A Pose – Fifty Years of Fashion and Football, kicking off on  1 February.
And in May we'll be in involved in an event at the museum with a film screening and a debate featuring some of our contributors.
The book is available from the National Football Museum shop, Bags of Flavor and Closer Than Most in Manchester's Northern Quarter or through our website www.northernmonkeysbook.com.
But with the first edition now sold out, you may wish to email us your details to Northernmonkeys@wethinkmore.com.
Michael Taylor is the founder of ThinkMore, a new business formed to encourage the people of the North to think more about what they do, who they are and what the future holds. He does this through events and books. He's also the chairman of Downtown Manchester in Business.