13 March 2013
Rippleffect unveils new Trinity Mirror website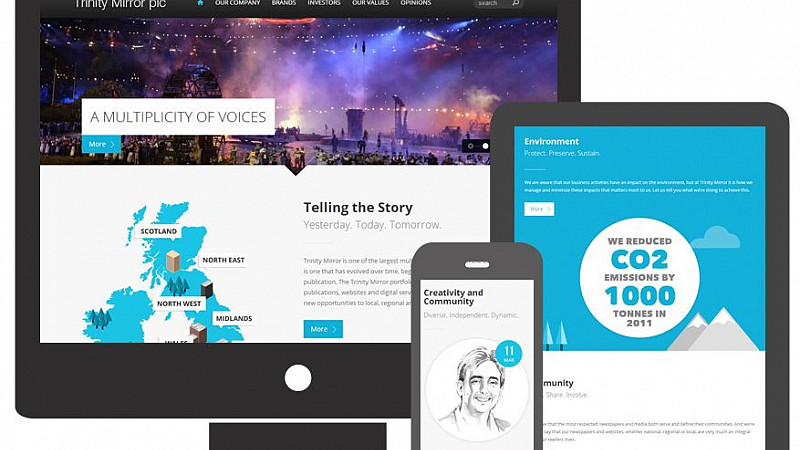 Digital agency Rippleffect has launched the new corporate website for Trinity Mirror plc.
The corporate website was previously developed and managed by the digital Trinity Mirror team in London and the new site is the first time that Rippleffect, which was bought by TM in 2008, has been tasked with handling corporate digital activity.
The site is aimed at the City and investors, consumers, current and prospective employees and the wider media and the objective has been to offer a more open and transparent view into the plc and enable quicker and easier access to relevant information for users.
Rippleffect's Liverpool-based team has created the new website, working alongside the Trinity Mirror communications team, in London.
The digital agency has created a new brand strategy spanning TM's multimedia platforms, with the new identity unveiled as a key part of the new site. Rippleffect will also provide all service on the site including technical maintenance, performance monitoring, 24/7 support, content updates and future development work.
The site also features a narrative structure that 'tells the Trinity Mirror story through a multiplicity of voices',  drawing on the company's wide variety of in-house providers across the UK via blog posts, news and other content from employees.
Simon Fox, chief executive of Trinity Mirror, said: "Working with Rippleffect on the new website has been a hugely rewarding experience and we're delighted with the results."
Kirstie Buchanan of Rippleffect added: "The launch of our parent company's new corporate website   reflects the culture, constantly-evolving brand portfolio and rich history of the group."
Rippleffect, whose main office is in Liverpool, also has offices in Manchester, London and Glasgow.
Its other clients include the Professional Footballers' Association (PFA), Everton, Arsenal, the NHS, Duff & Phelps, Unilever, Revolution Bars, Visit Kent, and Stobart Group.