03 June 2015
Newspaper rapped by regulator over child 'pervert' pictures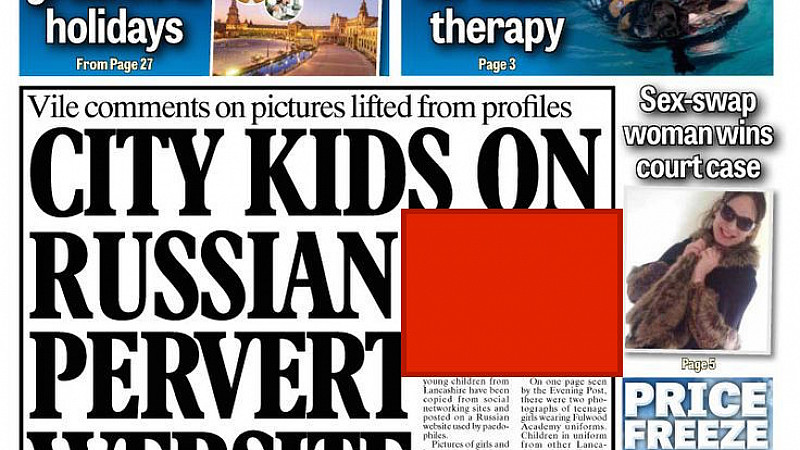 Front page - images obscured by Prolific North
The press regulator IPSO has ruled in favour of a woman who complained that her child could be identified from pixelated photos in a Lancashire Evening Post story about a "Russian pervert website."
The woman complained to IPSO about an article in the LEP published in January which reported that photographs of children from Lancashire had been found on what it described as a file-sharing paedophile website.
The story said most of the pictures were accompanied by sexual comments from users across the world which suggested they were being used for sexual gratification and the article was illustrated with five pixelated photos of local children.
In her complaint, the woman said that two of the images were of her young child, which had originally been published on her Facebook profile, and friends had recognised them.
She said that publishing photographs in which her child was identifiable intruded into her child's privacy in breach of Clause 3 (Privacy) and Clause 7 (Children in sex cases) of the Editors' Code of Practice, as they had been reproduced from a website where they had been used for sexual gratification.
The newspaper defended its use of the photographs saying they were an important element of a public-interest story, which made clear the nature of the material on the website.
The LEP also said that it had been contacted by other parents who were grateful that they had been alerted to the possible use of images of their children in this way.
Following its coverage, the link to photographs of children from Lancashire had been removed from the website, and a local MP had become involved in the issue.
IPSO upheld the part of the complaint relating to privacy and said that pixelation of the images had evidently been insufficient to prevent the child from being identified by those who were familiar with them.
The ruling, which can be read in full here, expalined: "The photographs had previously been published by the complainant on social media, in innocuous circumstances.
"However, the fact that the child had featured on the Russian website constituted significant and deeply personal new information, with the clear potential to cause significant trauma and disruption.
"Notwithstanding the public interest in the story itself, there was no public interest which justified the publication of identifiable photographs of the child in this context."
IPSO dismissed the part of the complaint relating to Clause 7, because it was not suggested that the child in question had been the victim in a case involving a sex offence.
The newspaper was required to publish the committee's ruling with the same prominence in the paper as the original story, with the adjudication published in full on page nine and with a front page reference.