23 June 2015
Channel 4 recommissions Paul Abbott's No Offence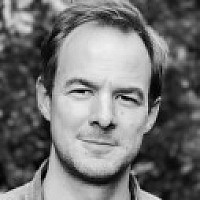 Channel 4 has recommissioned Paul Abbott's police drama No Offence for a second series.
Filming will begin in Manchester in early 2016 for eight new 60-minute episodes starring DI Vivienne Deering (Joanna Scanlan), DC Dinah Kowalska (Elaine Cassidy) and DS Joy Freers (Alexandra Roach).
No Offence writer Paul Abbott
The broadcaster said the next series will "continue to explore the underbelly of Manchester, delivering chilling and moving storylines, set against the lively crime landscape surrounding Friday Street Station".
A whole new case - involving warring crime families - will be investigated, and Shameless creator Abbott will continue to write on the series at his Writers' Studio alongside Paul Tomalin, Mark Greig and Jimmy Dowdall.
Executive producer Martin Carr said recently that it was always hoped that No Offence would have the longevity of Shameless.
Piers Wenger, Channel 4 head of drama, said: "No Offence is not just unlike any other cop show on TV, it's unlike any other show on TV and we are delighted to announce its return next year.
"Paul and the cast have set the bar high in terms of thrills, spills and belly laughs this year and we can't wait to see where they go in series two."
The first series of No Offence, which launched in May, has attracted a series average so far of 2.5 million viewers. The series one finale airs tonight.