15 April 2014
Sunday Sun hits back at Alan Pardew over "local press" comments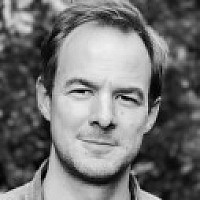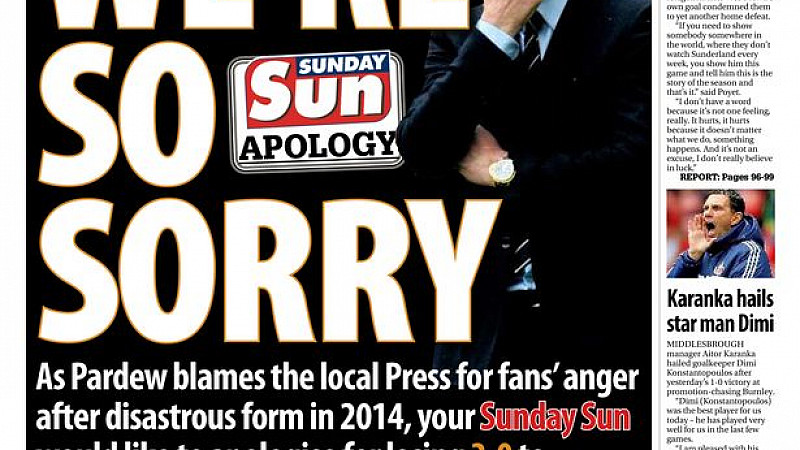 The sports editor of the Newcastle Chronicle has backed his paper's decision to give a back page "apology" to Alan Pardew yesterday.
Newcastle manager Pardew blamed the "local press" for his team's form after Saturday's defeat at Stoke, the club's 11th defeat since the start of the year.
And by way of an ironic apology, the Chronicle's Sunday title, the Sunday Sun, made its feelings towards Pardew very clear.
The Sunday Sun's back-page splash
The back page splash read: "We're so sorry: As Pardew blames the local Press for fans' anger after disastrous form in 2014, your Sunday Sun would like to apologise for losing 3-0 to Sunderland, 4-0 to Manchester United, 4-0 to Southampton, 4-0 to Spurs, 3-0 to Chelsea, 3-0 to Everton, 2-0 to Manchester City, 1-0 to Fulham, 1-0 to Stoke, 1-0 to West Brom and 2-1 to Cardiff... oh, and for headbutting David Mayler too."
Journalists from the Chronicle are still subject to a club ban on sitting in press seats during matches at St James' Park and attending press conferences, and are also not allowed to talk to players. Pardew blanked a question from chief sports writer Lee Ryder in the press conference that followed Saturday's loss.
Sports editor Kevin Dinsdale said the situation was "really sad" and claimed the club's attitude to the local press was linked to financial reasons.
He told Press Gazette: "We are not rights holders, so we don't pay them like Sky and BT Sport, for instance. There is this idea that they are paying for the access. Long gone are the days when a club would ask us to come to the training ground and interview players.
"It is ludicrous – because we do stoke interest. We do keep interest going. And I think the local press still has a big part to play. We still put bums on seats at football stadiums."
Pardew had suggested that the local press had an "agenda", but Dinsdale argued: "If the results are negative, our coverage is going to be negative. The ban hasn't affected our coverage."