30 April 2014
Newcastle newspaper readers choose splash headline: 'P45 Due'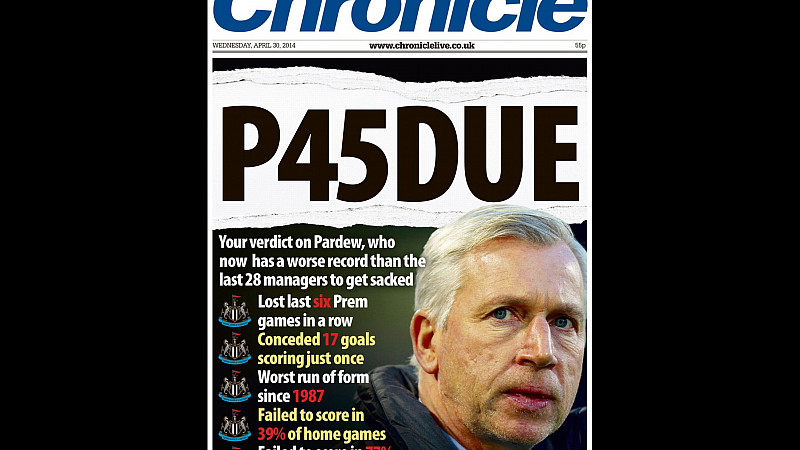 The ongoing animosity between the local paper readers and Newcastle United football club has resulted in this dramatic front page being crowdsourced online.
The Newcastle Chronicle asked readers to choose a headline for this morning's front-page, with this one being the final choice decided by a vote on Twitter.
A spokesperson for publisher Trinity Mirror said that The Chronicle posted a picture of today's front page, lambasting Newcastle manager Alan Pardew in the wake of the team's sixth defeat on the bounce, late last night.
With just a headline waiting to be inserted, the paper put a call-out on Twitter asking readers to send in their best efforts.
They say suggestions flooded in, the pick of which were listed in a story on the Chronicle's website.  
The best two suggestions were put up for a vote – 'P45DUE' and 'Only six more years of this…' Readers then retweeted for a yes and 'favourited' for a no vote.
More than 300 voted for either of the two possible front-pages in just a couple of hours. The overwhelming winner was the 'P45DUE'.  
Previously, sister newspaper The Sunday Sun also published a sarcastic 'apology' on its back page after the manager criticised what he saw as a lack of support from the local media.