27 January 2014
Former York Press photographer dies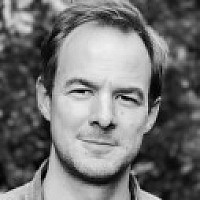 Former York Press photographer Paul Baker has died of cancer at the age of 53.
Baker joined the paper as a darkroom assistant and went on to work as a photographer until 2006.
Baker in his early days at the Press (pic: York Press)
He beat cancer twice before succumbing when it returned for a third time.
Friend and former colleague Anthony Chappel-Ross paid tribute to Baker in Friday's edition of the paper.
He said: "After leaving The Press, Paul, who lived in Everingham for more than 20 years before moving to Pocklington, was diagnosed with cancer, beating it not once but twice.
"Tragically it was to be third time unlucky for Paul, a gentle and intelligent photographer.
"Paul was the funniest person I have known and my personal, greatest sadness is knowing I will never laugh so loudly again."
His funeral will take place at the East Riding Crematorium, Langtoft, Driffield, at 10am on Wednesday.