17 April 2013
NorthEdge acquires majority stake in broadcast kit and IT provider Jigsaw24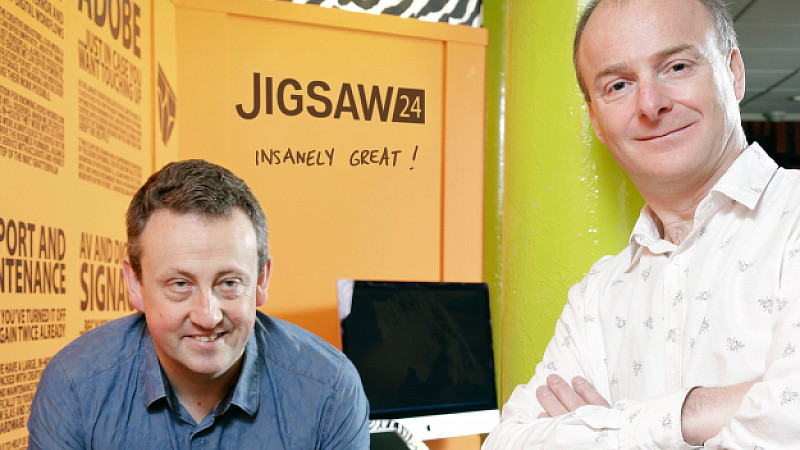 The private equity house NorthEdge Capital has taken a majority stake in the 'creative IT solutions' provider Jigsaw24, which is headquartered in Nottingham with a service operation at MediaCity.
Jigsaw Holdings Ltd, trades as Jigsaw24 and as An Authorised Apple Reseller offers IT services, broadcast kit and other products to companies with a particular emphasis on Apple and Adobe products and apps for the workplace. The company has hitherto focused on the UK's creative and education markets but is now targeting other commercial sectors and is also eyeing up the public sector.
Established 1992, Jigsaw employs around 140 staff, has annual sales of circa £60m and claims it has over 25,000 customers.
Whittle and Balaam
The investment is intended to accelerate the company's growth plans both organically and through acquisitions and in the short term Jigsaw plans to open an office in London this year.
Jigsaw's chief executive Martin Balaam and managing director and founder Roger Whittle will remain with the company with Ashvin Pathak, an IT investor coming on board as non-executive chairman.
NorthEdge is an independently-owned equity house which has offices in Leeds and Manchester. The firm's managing partner Grant Berry and investment manager Tom Rowley have also joined the Jigsaw24 board as non-executive directors.
Martin Balaam said: "Jigsaw24 has grown considerably in recent years as Apple and creative IT have become adopted beyond more than the creative and educational sectors.
"More and more enterprises are embracing Apple and iOS technology, transforming how their users interact with each other and their customers, creating efficient work-flows and a paradigm shift in user and customer experience. The investment from NorthEdge provides us with the platform to accelerate growth and expand our UK footprint."