15 January 2013
Writer set for Hollywood after winning Pitch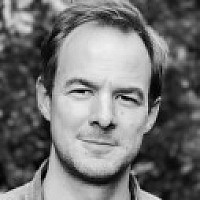 A writer from Manchester has won a trip to Hollywood and a production budget of £25,000 after winning international film competition The Pitch.
Simon Cookson's short film idea "The Light" was considered the best by a top industry panel which included Preston-born Oscar-winning animator Nick Park.
The 34-year-old wins the opportunity to have his film made with production support and a budget of £25,000, and will go to Hollywood for a meeting with several industry professionals including Ralph Winter, producer of X-men and Fantastic Four.
Following the Pinewood Studios award ceremony, Wallace and Gromit creator Park said: "It was a clear story - a dramatic idea which had clarity to it. Simon had a very clear vision about where it was set, what the story was about and the major beats of the story came across really clearly."
Writer Simon Cookson is announced as the winner
Cookson's story, which was required by the competition rules to be based on a Bible story, involved a retelling of the Damascene conversion of Saul in 1950s America.
The winning writer said: "I'm still in a dream - it feels amazing! I have learnt an immeasurable amount of stuff throughout the process of this competition. I absolutely adore this story, so in a couple of days' time, once I've had chance to decompress and get back to reality I will be on with the job of developing it further."
Luke Walton, project director for The Pitch, added: "Simon stood out to the judges because he had a particularly fresh original context. By going back to the McCarthy era in the States I think it was a clever way of replaying the story of Paul. He's a talented young man and well placed for the challenges that lie ahead to realise his vision."