10 June 2015
Harrogate PR firm looks to Appeal in the US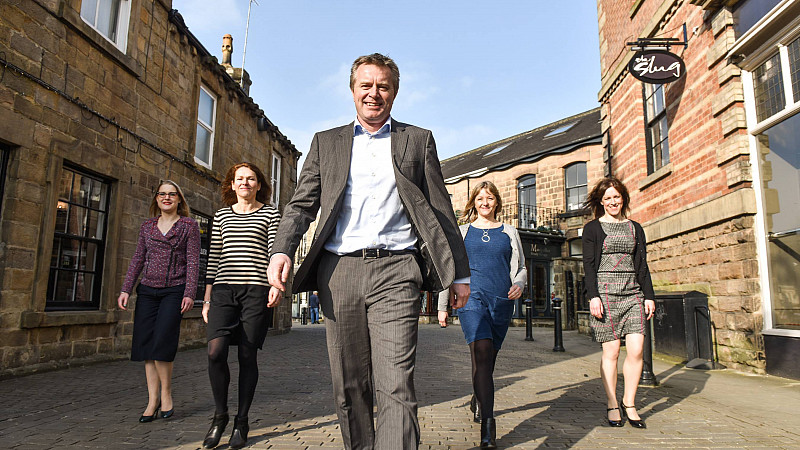 Paul Snape (foreground) with (L to R) Jane Burgess, Susan Reid, Sarah Hone and Melanie Rice
Harrogate-based digital PR and marketing agency Appeal has boosted its team and secured contracts with several new client wins at home and abroad.
The firm says its new contracts are worth more than £120,000 a year and come after the agency expanded with a number of new appointments.
The new clients for PR and digital marketing support include temperature controlled storage and distribution firm Reed Boardall, Hull-based food manufacturer Apple International and discretionary investment management company Myddleton Croft.
Alongside the UK business wins, the agency is providing marketing, business development and profile support to a number of US-based businesses entering the UK market and UK firms exporting to the USA. US clients include distribution and fulfilment company, Coast to Coast Fulfillment Inc, and business development agency Bellasarius LLC which are both seeking to raise their UK profile.
MD Paul Snape said: "Our reputation is obviously growing outside the region and it is great to see the development of our international work complementing our core UK contracts. The USA is obviously a huge market for Yorkshire exporters too, and we're building up quite a network of transatlantic contacts, suppliers, partners and clients with recent increased interest in exporting to America."
Superconnected West Yorkshire has renewed its contract with Appeal following the extension of the government-funded Superconnected Cities scheme. York-based pension to peer lender Grosvenor Financial and Leeds-based law firm Clarion have also extended previous contracts to deliver PR, online content and search consultancy.