27 May 2015
0.5 million views of Manchester's Chinese shopping film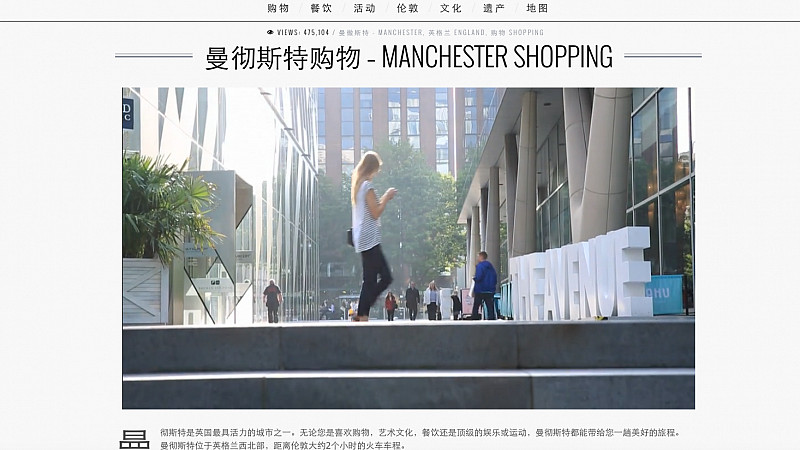 A still from the video
Manchester is looking to woo Chinese shoppers to the city with a campaign launched with Cathay Pacific and Visit Britain.
Marketing Manchester's director of tourism, Nick Brooks-Sykes said that retail was often overlooked as a 'tourism draw' but that it was actually a ' hugely important driver for certain markets' with the average retail spend of Chinese visitors in Manchester calculated at £677 per person.
He revealed more about the campaign via a recent blog post and Twitter.
"So in the spirit of sharing we've had some fantastic news this week regarding a Chinese tax-free shopping film which we produced in partnership with VisitBritain. As you will infer the video aims to position Manchester as a top shopping destination, specifically targeting the Chinese market.
"The video has only been live for a couple of weeks and has already racked up almost 500,000 views, eclipsing the view numbers for well-known London shopping hotspots such as Covent Garden and Bond Street. This is a fantastic achievement for all involved, showing that the work we have been doing to promote tax-free shopping to non-EU visitors is beginning to cut through."
The video (which you can see in full here ) is one part of the campaign which also includes a Mandarin Tax Free Shopping Guide and this cheeky map which takes its inspiration from the universally known London Underground maps.
Loving our @visit_mcr campaign with @cathaypacific #startinmanchester http://t.co/vEEPKgOLE0 pic.twitter.com/aSMpfWR98Y

— Nick Brooks-Sykes (@nickb_s) May 22, 2015