15 October 2014
Motionlab marks ten year milestone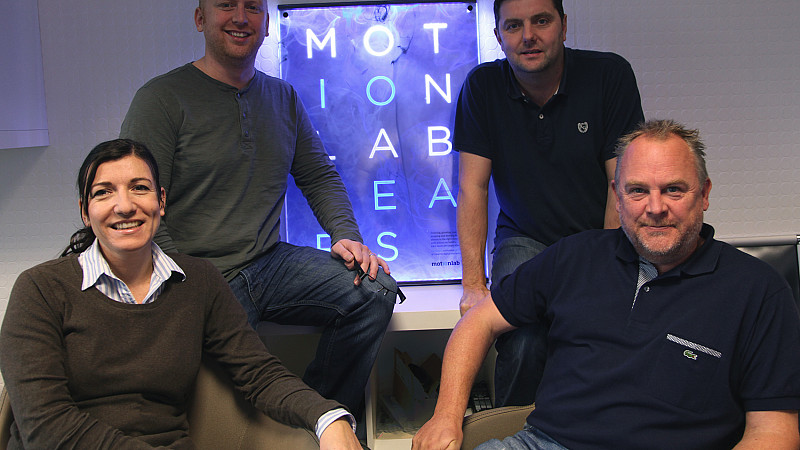 Front (L-R)
financial director Nicola Iredale and managing director Steve Ormand,
Back (L-R) technical director Stuart Cross and CEO Simon Iredale.
Motionlab Marketing Ltd is celebrating a decade of creative digital marketing in Lancashire.
Having started life in 2004 with a £500 creative fund from Preston City Council, Motionlab has grown to become a £1.6m business, employing a team of 40 design and digital marketing experts at its 3,750 sq ft Preston Citygate headquarters.
CEO, Simon Iredale founded Motionlab in September 2004, relocating to Preston after a successful career as interactive director at Tableau and online creative director for Sony Music Europe, London.
"When I started Motionlab it was with the intention of bringing a truly creative digital marketing offering to the North West. I never envisaged it would grow to the size and success that it has today, but this reflects the wealth of opportunities that there are within the region.
"Clients choose Motionlab because they receive the same high level of creativity and attention to detail that you'd expect from a top national agency. We offer a full digital marketing service under one roof.
"We've used our 10-year anniversary as a chance to celebrate everything we've achieved to date, and to look forward to what the next ten years hold. We've got an extremely talented team and are armed with the right tools, skills and enthusiasm to push boundaries over the next decade."
To mark the ten year milestone, the agency kicked off a month of fundraising activities that have seen it raise more than £3,000 to date for nominated charity, Derian House.
Fundraising started with ten of Motionlab's 40-strong team lining up to take part in the Run Preston 10K on Sunday, 28th September. A charity bake off and an impending five-a-side football match will all help to raise money for the children's hospice.
Creative director, Dave Ellams designed and commissioned a commemorative piece of artwork which was unveiled at a special event for Motionlab's key clients and contacts at Preston North End Football Club.
Motionlab says its service line has grown considerably over the last decade. Originally specialising in website development, Motionlab now delivers branding, design, website, applications, online marketing, PR and content services for over 60 retained clients.