08 October 2014
Middle East partnership for Polaris PR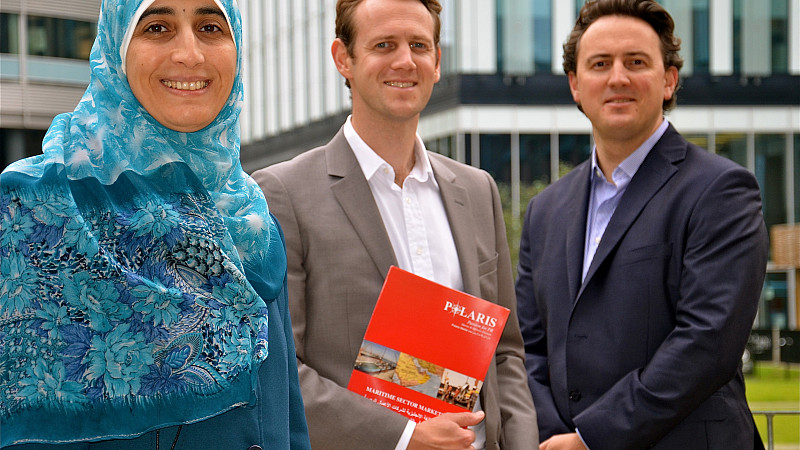 Dr Abeer Pharaon with Polaris Directors Sam and Ben Pinnington
North West PR firm Polaris Media has signed a new partnership with Manchester and Middle East based management consultants Innovation Culture Consulting Ltd (ICCL).
The partnership will see ICCL help promote Polaris' English language publicity and marketing services to the Middle East and North Africa (MENA) region.
The new venture will be formerly launched on November 5 when ICCL opens its new office in Amman, Jordan. A number of senior businesses and officials will attend the launch at Amman Chamber of Industry including Peter Millett, the British Ambassador to Jordan.
Polaris director Ben Pinnington said the company is delighted to launch the new partnership and build on its Middle East links.
"ICCL is an ambitious business with an entrepreneurial ethos. We see a lot of potential in working together as ICCL is well connected across the MENA region. MENA is a very attractive market for our English language publicity services. We already help promote Oman Drydock Company a $1.8bn shipyard based in the new port and logistics city of Duqm on the Arabian Sea in South Eastern Oman.
"Moreover, we promote a number of our exporter clients in the Gulf. This has given us contacts in, and experience of, the Middle East media. We can help Middle East companies who want to promote themselves in the English language international business press. Key markets for us include maritime, offshore, engineering and construction."
Ben added that Polaris will also be promoting its services to the MENA region at the Seatrade Middle East trade fair in Dubai in October.
ICCL founder and director Dr Abeer Pharaon said she is very much looking forward to launching ICCL's new office in Amman.
"We are entrepreneurs and want to help businesses as much as we can. Working with Polaris we can offer additional marketing expertise to our clients. We will also be working with Polaris to promote our new office launch and range of business support services."
Polaris was founded on Merseyside and has offices in Liverpool, Manchester and Ellesmere Port.