05 September 2013
98% of journalists say the follow up call from PRs doesn't work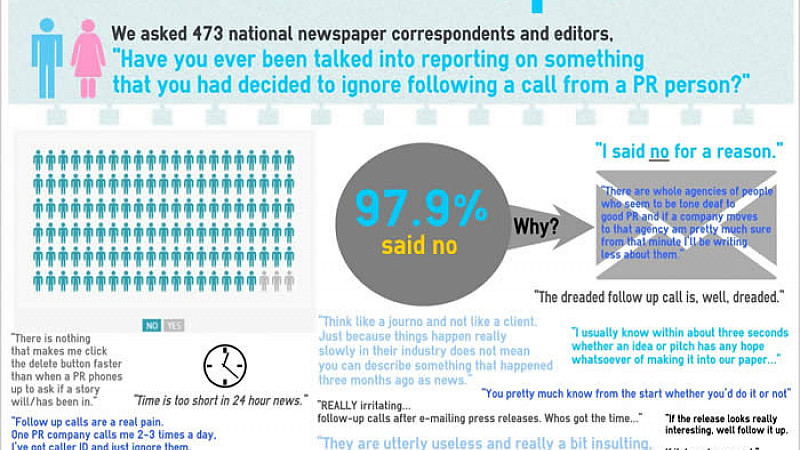 "Annoying" sell-in calls from PRs to journalists don't work, according to new research, which found that follow-up calls don't make any difference as to whether a reporter will cover a story or not.
Agency, Twelve Thirty Eight PR polled 2000 journalists, asking:
"Have you ever been talked into reporting on something that you had decided to ignore following a call from a PR person."
97.9% of the 473 respondees said no.
Agency founder, Hamish Thompson explained that he didn't feel this meant that calls should stop entirely though:
"I must admit that I have always been sceptical about the value of these calls.  I worked in-house as a director of media relations for 15 years before I set up my agency six years ago. When I appointed agencies to support me one of my main criteria was that an agency would spend as much time as possible on ideas and as little time as possible on "sales".
"My rationale is that journalists are hugely over-stretched and they simply don't have time to field calls.  Each call represents a couple of minutes that the journalist won't get back.
In my view, it's the quality of the story that matters and makes a difference.  If you get that right, everything else falls into place.
"Too many agencies attempt to seduce their clients into a belief that process is a good substitute for ideas.  It just isn't."
Feedback from journalists about the "sell-in" calls:
"I have never, ever been talked into reporting something through a follow-up call. They are utterly useless and really a bit insulting, in the sense that they imply journalists are not capable of spotting and chasing stories for ourselves."
"My quick response to these calls combines sex and transport."
"I hate it when people send local and regional journalists releases which have nothing to do with their patch and make no attempt whatsoever to tailor them."
"I find it frustrating when PRs call up to see if the article has been published rather than carrying out a simple search on the site themselves."
"I do remember one instance where I wrote up an article and then received a follow up call from the PR saying it needed to go through the client's press team before I could publish it, so I ended up not using it."
"If I have time, after pointing out that had I been interested they'd have heard from me, I inquire as to which section of my newspaper (it has many) they see the story appearing in. This basic question invariably reveals that the person making the call has never read the paper, has no idea what's in each section or thought about the best target for their particular product/client."