18 January 2013
The Beautiful Meme completes English National Ballet rebrand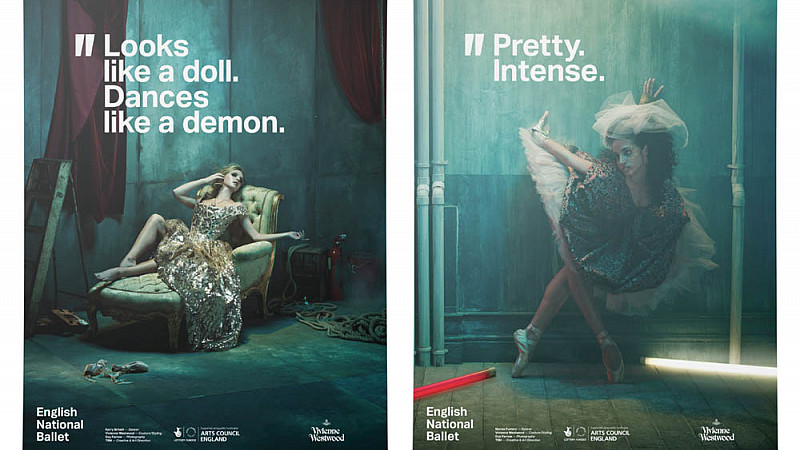 York's The Beautiful Meme has revealed the new brand identity it has created for the English National Ballet.
The agency was appointed last year following the arrival of ENB's new artistic director, the world-renowned dancer, Tamara Rojo, who set out a clear vision for The Beautiful Meme to work from:
"To be the most creative and most loved ballet Company in the UK. To dance in order to conjure wonderful, beautiful visions and because we have something to say."
Tom Sharp, TBM's creative director told Prolific North that the phrase, 'we have something to say,' became the starting point for rebrand:
"A logo that is both opening quotation marks and ballet shoes en pointe, with a dash of Bauhaus (a big influence on Tamara) aesthetic thrown in. It means that all that follows the logo – be it imagery, words or dance – is part of the artistic statement the Company is making."
TBM worked alongside fellow Yorkshire firms, Isotoma which created the website from their designs and Orillo Productions which filmed the campaign teaser films.
"Collaboration is a key part of the brand positioning we created, and the identity is built upon working with different creatives, fashion houses, artists and photographers each season," he added.
"We launched the brand with a partnership with Vivienne Westwood – our advertising creative coupled with their clothes adorning the dancers. Guy Farrow shot this first campaign and our art direction was as much about bringing his rich, sensual style to the adverts as it was about celebrating the dancers."
It's also written a brand manifesto, which Sharp explained was a "statement of purpose. A reminder to the Company and its partners of the bold and creative spirit of its new artistic director."