25 July 2016
"We are proving that print is not dead": Cumbrian hyperlocal publisher marks 25 years with 300th edition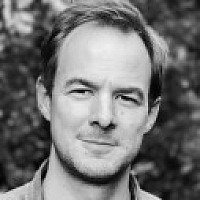 A hyperlocal newspaper in a quiet seaside town is celebrating 25 years in print with the publication of its 300th edition.
Grange Now covers the area in and around the seaside retreat of Grange over Sands on the southern tip of the Cartmel peninsula, between the mountains and the sea some seven miles from Windermere.
The popular monthly has written well over 10,000 stories directly related to the immediate area and delivered over 1.5 million copies of the paper, equivalent to roughly 36 million pages.
"There has been drama, good news, bad news, some big stories and many smaller ones, but all with three things in common: they were hyperlocal and related to this area, they were delivered to the readers for free, and they were supported by local businesses through their paid adverts," said editor Chris Plumb.
Editor Chris Plumb
Since Plumb took over as editor/publisher in 2013 the parent company has developed two new papers, Windermere Now in 2014, and Ulverston Now earlier this year, and currently prints 27,000 papers a month across the three titles. The August issues between them account for almost 1 million pages of print, and the area of coverage for all three titles now includes the majority of homes in the South Lakes outside Kendal.
"The pages of Grange Now have been used to celebrate volunteers, to promote events, applaud local heroes, celebrate artists of all ages, congratulate high achievers and tackle a huge range of issues," said Plumb.
"We are proving that print is not dead. Readers want hyper-local news and we are delivering that to them in a very successful format."
The paper was founded in 1991 by Mary Ann Best and Robin Williamson. When Plumb took over as editor he had just two part-time staff. There's now more than a dozen people involved across the three papers.
Plumb said: "Now is the moment to say thank you to all our readers for their involvement, comments, letters, society, school and church reports; to everyone who has worked on the paper and helped to deliver it, and a huge thank you to all the local businesses who have given loyal support. Indeed there are eight advertisers who have been in almost every issue of Grange Now dating back to 1991."
He added: "As we celebrate 25 years of Grange Now in this 300th edition, it is interesting to think about what makes it such a great paper to work on. The answer for me is the people who do little things in the community, often unnoticed, but which make such a difference. Small acts of kindness, keeping an eye out, helping with the look of the area or volunteering in some way or other. When you come across those types of stories in the office it makes all the staff smile and spurs us all on."