27 March 2013
The Landing: the story behind its creation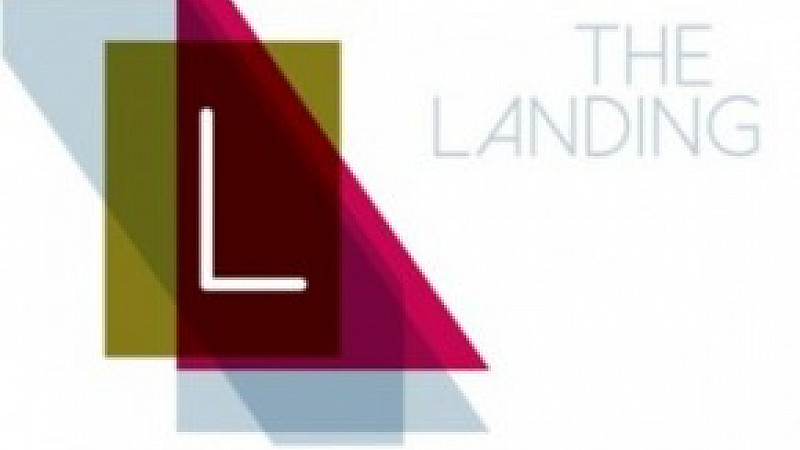 The Landing at Media City is proving to be another successful development in the wave of digitally orientated, future-led innovation sweeping through Salford Quays. Spanning 53,500 sq ft across seven floors of the Blue Tower, it offers an unusual space that's worth a visit, if you haven't yet been.
Specially geared towards small and medium sized companies working in interactive technologies and games, The Landing aims to provide a 'state-of-the-art environment' to help support creative businesses as they grow. It is home, claims The landing team, to the North's only Usability Rooms for testing and analysing games and interactive technologies, as well as the UK's only Digital Workflow Centre. (Even the lighting and air-con are ipad controlled).
Connectivity linking each of the floors enables a more updated approach to doing business, whilst a suite of boardrooms and conference spaces stacked out with the latest communication gadgets and an on-site team of support-staff, are likely to be of interest to smaller companies seeking impress 'world-class' clients.
But being based at The Landing is about much more than this. What's really special is its emphasis upon providing a creative, ideas-driven environment that actively encourages collaboration. After all, wifi and desk space aren't too hard to come-by.
What developing enterprises really need is to be at the heart of things, working alongside other companies to help drive innovation and provide new business opportunities. All this is reflected in simple details such as the open-plan layout of the floors, glass wall office units and the communal kitchen and social spaces, helping to foster a sense of freedom and possibility.
Certainly, achieving 90% occupancy since The Landing officially opened in November last year, suggests the development team has pitched the offer nicely, with several London-based companies opting to choose the space as their new Northern base.
Given the surge of interest from potential tenants, CEO Jon Corner says that the interest being shown allows them to 'be picky' when it comes to awarding contracts, and selecting companies based on factors such as whether their profile fits with and even to what degree newcomers might be able to contribute to the overall vision they have in place.
Communications agency LDA was one of the first companies to make the move and stated that: "The exciting mix of companies taking up residence at The Landing and MediaCityUK provide us with great opportunities for creative collaborations and cross fertilisation." Adding also how they were "impressed with the attention to detail and service provided to us."
Similarly, the visual effects and post-production company Carbon Digital has described The Landing as "a prime geographical location," testament to the thriving and broader digital community that MediaCity now supports.
The Landing's other star, and increasingly talked-about feature, is 'On the 7th', an in-house media lounge and members bar complete with a private screening room (plus popcorn machine). The venue is managed by Manchester's Eclectic Hotels, owners of the Great Northern hotel just off Quay Street and two boutique hotels in Didsbury. It is rumoured that Eclectic saw off competition from over 50 national and regionally-based companies to to secure the contract.
On the 7th has quickly established itself as a 'social juncture' (aka networking hot-spot) for industry folk around MediaCity and increasingly for visitors keen to check out the venue for themselves. The space has been specifically designed with this purpose in mind, intended to serve as somewhere where chance meetings, conversations and ideas can come about naturally, away from the office. The venture has already signed up over 500 members since it opened. Corner added that he was delighted to find businesses reacting to and using the space in the way that was intended.
So how did the whole thing come about?
According to Barbara Spicer, chief executive of Salford City Council, the concept of The Landing was always integral to the vision for MediaCity. The project was developed by Salford Council and is a partnership between them, landlord Peel Media, the BBC, ITV, The University of Salford and the digital media industry. Additional financial support came from the NWDA and the European Regional Development Fund.
Finding a way of uniting this disparate band under one umbrella identity was always going to key to The Landing's chance of success.
Origin Creative, a creative agency in South Manchester, was tasked with developing a coherent brand for the project in order to win the contract from Corner and Salford Council. This began with a two-day series of stakeholder workshops during which the core vision was debated and challenged, with a handful of leading industry figures,  including Mark Harrison, controller of production, BBC North, who helped to shape and try to bring to life the vision envisaged by Salford.
Duncan Slater, a director at Origin Creative, explained how a key concern was to create a working environment in response to the changing nature of the digital creative industries which have become increasingly geared towards one-off, short-life partnerships. The Landing's logo is intended as a visual metaphor for this, conveying a sense of transience, dynamism, fluidity and collaboration. Likewise, the original (slightly less snappy) title: 'Media Enterprise Centre' was quick to go. As well as the apt nautical resonances, 'The Landing' also implies the idea of a launch pad or, even better, a corridor running through MediaCity, each door opening onto 'new avenues of opportunity'.
Origin Creative had previously worked on a number of public sector branding and digital projects and Slater praised government bodies beginning to wake up to the world of digital communications and branding identity as a powerful means of audience engagement.
He added that, given MediaCity's success, it is easy to forget the level of risk that was initially attached to the development which has prospered in the face of recession and amidst a risk-averse climate. If the recession has taught us nothing else, it has underlined the need for Britain to focus upon developing its industries more effectively. The North is fast becoming a growing national and perhaps even international centre for digital and telecommunications and for this to continue it is essential that we provide the facilities and opportunities to help support SMEs and local homegrown talent.
As well as tenant companies, The Landing also provides space and access to facilities for students at the University of Salford who are looking to enter the digital arena.
Here students will be able to develop a flavour for what it would be like to set up and run a digital company of their own. Corner pointed out that, located at the far end of floor three, students will walk past a range of successfully operating companies in order to reach their own office space, so presenting a real networking opportunity for those who choose to use it.