Amazon Advertising & SEO Training Course – Live Online
Online Event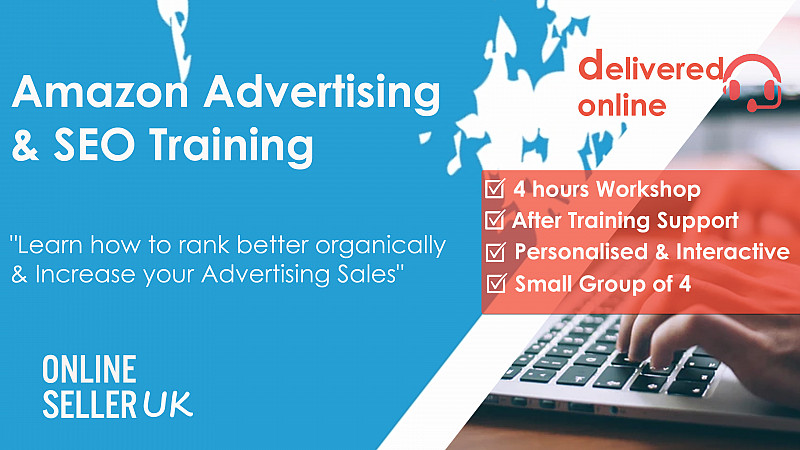 Amazon is fast becoming the consumer's first port of call for online shopping. That means it's the obvious choice for private label sellers, retailers, brands, and wholesalers to increase their presence on Amazon.
As a result, Amazon is becoming a crowded marketplace, making it more difficult for new sellers to be found. This is where Amazon SEO and Amazon Advertising play a considerable role in helping your business to stand out from the crowd.
Amazon SEO aims to increase your product visibility organically, and Amazon Advertising helps you gain the sponsored position on page #1.
This training course from Online Seller UK shows you how to improve your product's organic ranking and get the best from Amazon Advertising.
** If you are looking for Amazon Advertising and SEO Service, you can find out more here >>
Who is this workshop suited for?
Seller Central Users, Vendor Central Users, Digital Marketers
Some key areas of the workshops are:
Amazon Search Engine Optimisation
Best practises for optimising product content
Amazon SEO ranking factors
Amazon product reviews best practices
Keyword Research and Best Practices
Finding the right keywords for your product
Amazon keywords tools
Finding keywords that are ranking for your products
Competitor keywords analysis
Keyword research with Google keywords planner
Getting started with Advertising Campaigns
Live Demo: sponsored product ads
Keyword types, Broad, Phrase, Exact Match
Automatic Campaigns vs Manual campaigns
Amazon Product Target ads
Campaign Structure
Basic Campaign Structure
Best Practices
Advertising Reporting
Understanding Amazon PPC Metrics
Understanding Search term and Product placement reports
Optimising Campaigns Performance
Managing Bids
How to go about product variations ads
Negative keyword best practices
Bid strategy to increase sales
Analyse search terms reports
Amazon Advertising for Brands – Sponsored Brands
Live demo: Sponsored brands ads
A/ B testing
Optimising sponsored brands
Analyse sponsored brands reports
Amazon Advertising for Brands – Product Display Ads
Live Demo: Product display Ads
A/ B Testing
Optimising Product Display Ads
Amazon Bid Management Tools
Introduction to bid management tools
Creating a Portfolio for your products
Portfolio bid strategies
Competitor PPC Analysis
Spying competitor converting keywords
Creating your own Amazon Advertising Plan
Building your brand content on Amazon
Amazon A+ best practices
Amazon Store design best practices
Amazon store traffic analytics
External Amazon store promotion
Amazon Attribution ( NEW )
What is Amazon Attribution?
Setting up tracking
Types of media that can be applied
Understanding the attribution metrics
Prerequisites for this course:
This course is aimed at digital marketers, seller central & vendor central users and typically delegates who have experience using Amazon in some capacity.
Looking for a bespoke course? We are happy to provide online or in-house Amazon training for you and your team.
To find out more information, and to register your tickets