KitPlus Show MediaCityUK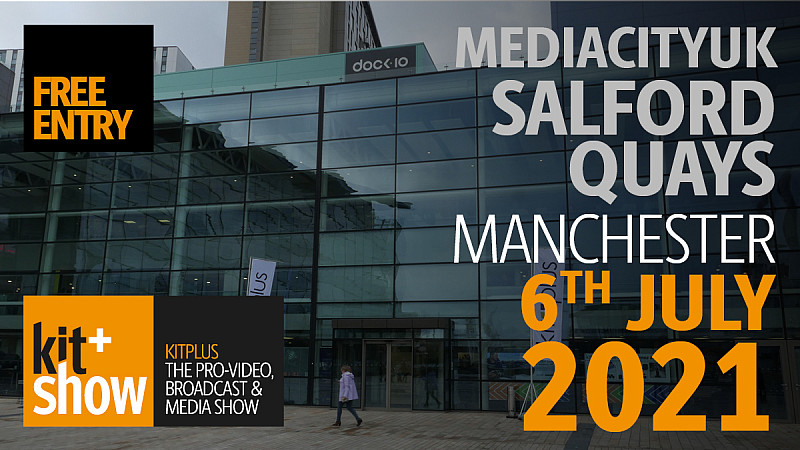 The KitPlus Show is an independent, FREE to attend event in MediaCityUK, Salford and Shoreditch, London each year and this year the event will have additional measures in place to create a safe and enjoyable environment for attendees, exhibitors and staff.
KitPlus Show is not dependent on national restrictions moving to step 4 and is being held within England's current Covid rules and guidelines and approved by Salford City Council Safety Action Group and MediaCityUK.
The KitPlus Show is now 10 years old and over this time has been across the UK with events near key media hubs in Belfast, Glasgow, Leeds, Manchester, Cardiff, Bristol and London.
Often timed to after a major global trade show the KitPlus Show gives visitors the chance to see the very latest in new kit in their region in a safe, friendly and relaxed environment. As well as kit to try and manufacturers to speak there are workshops, training sessions and seminars throughout the day together with, and what more and more people are looking for, those excellent networking opportunities.
2020 saw the show in Shoreditch, London E1 on 26th February and then due to Covid-19 guidelines the MediaCityUK, Manchester event moved to 6th July 2021.
The show, and seminars, are free to attend with brands covering the broad spectrum of the pro-video, broadcast and media industry.
Above all everyone is welcome no matter what stage of your journey through our industry you might be at. Please do register before you come as you will receive your badge in advance to remove any delays in getting in on the day. We look forward to seeing you.
There are always lots more exhibitors that come to the KitPlus Show as well as last minute seminar additions so please check back soon as we approach the day of the show.
Find out more...
To find out more and free registration