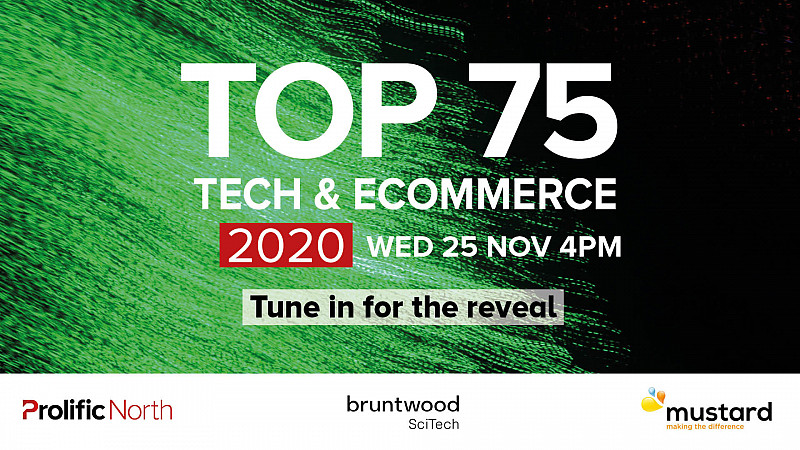 We'll be revealing the 2020 Top 75 Tech & eCommerce Companies at a dedicated webinar session, featuring a virtual fireside chat on the state of tech in 2020, sponsored by Bruntwood SciTech.
Compiled by independent research partners Mustard, the Top 75 Tech & eCommerce companies will reveal which organisations are thriving and growing in 2020 in the competitive worlds of tech and eCommerce. The benchmark ranking provides important insights into the tech leaders of today, and will be published online on November 26th.
However a first look will be provided at the November 25th webinar, which will also feature a virtual fireside chat hosted by Prolific North Editor, David Prior, who'll be joined by a selection of tech leaders.
Here's who's speaking at this year's reveal of the Top 75 Tech & eCommerce Companies:
Michael Brennan, Co-founder, Tootoot
Gabriel Dooris, Head of Enterprise New Business, TalkTalk Business
Tom Renn, Managing Director, Bruntwood SciTech - Manchester
The webinar will begin with a Q&A hosted by David Prior, focusing on some of the challenges and opportunities facing tech in 2020 and beyond - before the floor opens to pose questions to our special guests.
Following this, the full list will be revealed - providing an unmissable first look at the landmark list exploring the region's tech leaders.
Tom Renn, Managing Director at Bruntwood SciTech - Manchester, said: "The North is home to some of the UK's most innovative and disruptive tech businesses; and the Prolific North Top 75 Tech and eCommerce celebrates the very best that our thriving, world-class region has to offer. As the UK's leading property provider for the science and technology sector, we're excited to be unveiling this year's list and looking forward to seeing who will take the top spot."
To join us at the webinar, sign up using the form below: