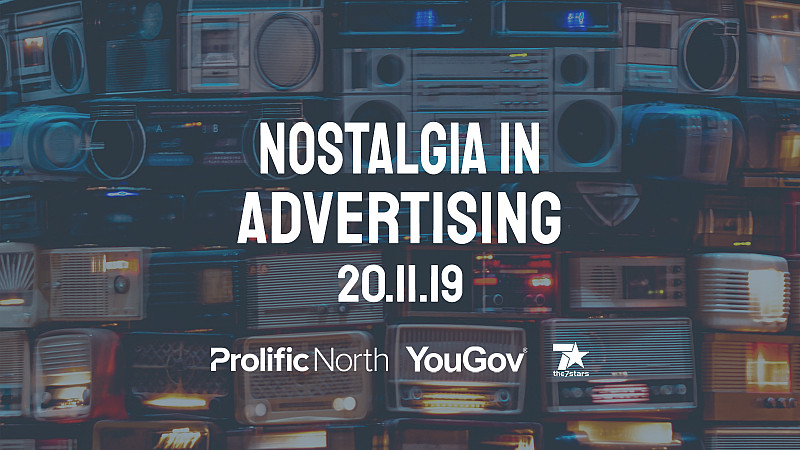 Join us for a thought-provoking evening looking at why consumers have a taste for nostalgia.
Prolific North is partnering with international research and analytics group, YouGov, and the UK's largest independent media agency, the7stars, to host this event.
You can expect:
To explore key findings from the brand new whitepaper: 'Nostalgia - is it what it used to be?', produced by YouGov and the7stars.
A panel discussion on nostalgia and its power as a marketing tool.
Drinks, canapés, and the opportunity to network with peers working in marketing.
The event, an informal panel evening with drinks and canapés provided, is aimed at senior figures from brands and agencies who are looking to understand more about the tools they can use to strengthen their campaigns. Discussion will dig deeper than simply the use of nostalgia, but also look at invaluable consumer insights that reveal how audiences respond to it. 
Previous YouGov whitepapers have explored insights on tools like loyalty schemes, as well as public opinion on whether brands should have a voice on social issues.
Antonia Stockwell, Head of Marketing at YouGov UK, said: "Placing consumers at the heart of strategic decision-making is paramount to marketing success. At YouGov, we've been holding conversations with consumers for nearly 20 years and it is our duty to continuously provide a representative portrait of what the world thinks.
"The event is aimed at brands and agencies who are looking to understand just how powerful nostalgia is as a marketing tool and exactly why the past is still so influential among consumers in Britain today."
Attendees will be able to scan a QR code to download the whitepaper to their phones on the night.
On the panel:
Amelia Brophy, Head of Data Products at YouGov UK
Helen Rose, Head of Insight & Analytics at the7stars
Phillip Hulme, Director of Sales at Anchor Hanover Group
Emma Hunt, Head of Marketing at Vimto
Where?
Prolific North HQ in Accelerate Places, 101 Princess Street, Manchester, M1 6DD.
When?
6pm - 9pm, Wednesday November 20th.
Reminder: This event is designed specifically for senior marketing professionals at agencies and brands. If you would like to attend, please register your interest below and a member of the Prolific North team will be in touch.
Attend the Nostalgia in Advertising whitepaper evening