#LiveBetterMCR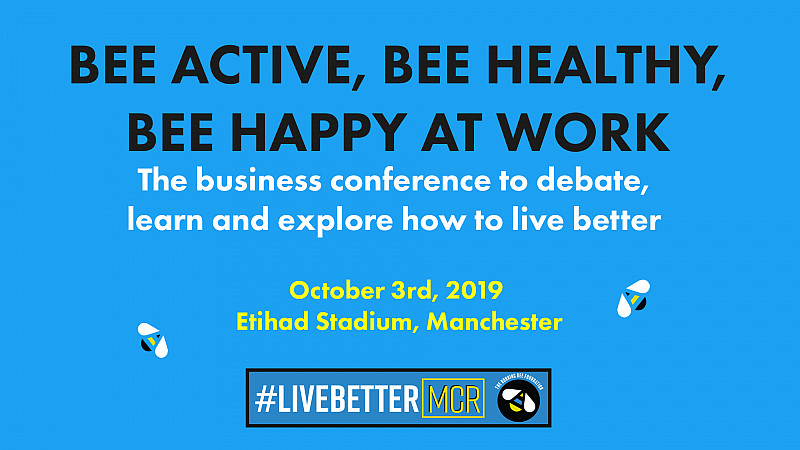 Bee Active, Bee Healthy, Bee Happy at Work. The business conference to debate, learn and explore how to live better in the workplace.
#LiveBetterMCR invites BUSINESS LEADERS, ENTREPRENEURS, and SENIOR MANAGERS to discuss and debate how a positive approach to wellbeing can improve the lives of employees and positively impact their business.
Guest speakers include:
Chirs Bird - CEO, Sports Tours International
Jeff Ross - Owner, Harris & Ross Physiotherapy
Phil Jones - Managing Director, Brother (UK)
Dr Carl Austin-Behan – LGBT advisor to the Mayor of Greater Manchester
Brendan Fox - Director of Sales & Customer Engagement, Sports Tours International
Michael Finnegan - Psychologist and Founder, i2i
Dr Maria Stukoff - Director of Maker Space, Salford University
Justin Watson - Director, Young Manchester, amongst other inspiring names from the world of business and sport.
The conference will discuss:
Mental health in the workplace
Getting young people workplace-ready
The facts (not the myths) of wellbeing
Real-life workplace case studies
Practical steps for your workplace and much, much more…
#LiveBetterMCR is presented by The Running Bee Foundation. Created by Fred Done and Chris Bird at Sports Tours International.
As a not for profit conference, all profits from the conference will be directed into health and wellbeing activities and initiatives that support the fight to reduce childhood obesity across the City of Manchester.