18 May 2015
Technologists head to the North East for the Thinking Digital "experience"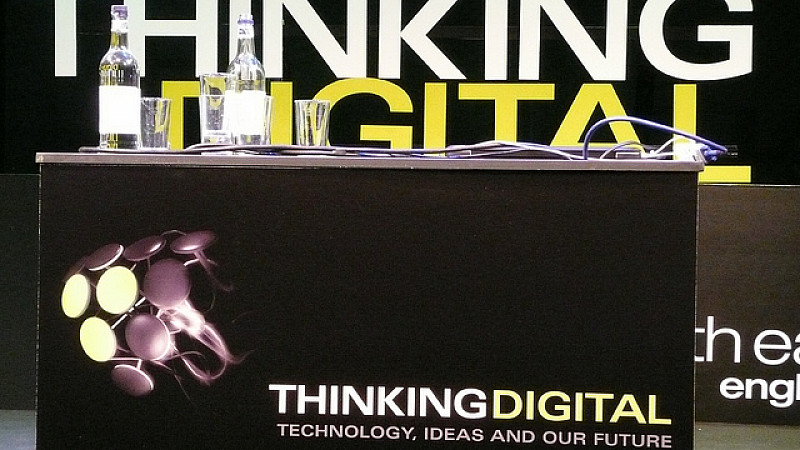 The stage is set.
Picture Karl Schneider on Flickr
The North's technologists will be looking to Gateshead this week as leading thinkers from the digital sector gather for a major conference.
The Thinking Digital Conference returns to The Sage for the eighth year with a line-up of speakers and activities ranging across a diverse spread of topics - everything from art to commerce with a liberal sprinkling of tech.
Speakers include the Manchester-based general manager for controversial taxi app Uber, Max Lines, a Silicon Valley robot surgeon, Dr Catherine Mohr and Entrepreneur of the Year Alex Depledge, the straight talking British businesswoman best known for being the driving force behind cleaner website Hassle.com.
But the three day event has become an established diary date in the sector for more than simply the quality of its conference sessions.
The organisers explain: "Every year we bring game changing speakers from all over the globe to inspire you with their thoughts and findings.
"Thinking Digital is more than just a conference; it's an experience. It's an experience for those who have a desire to learn and who seek connection to a community of other innovators, inventors, leaders, makers and creators of our future."
Activities get underway tomorrow with a series of workshops for participants. Those include the fourth annual start-up competition which will see 12 hopefuls battle it out in front of guests and a judging panel of experts.
They include a public/private place to store memories, an app to lend money to business mortgage providers and an online/mobile healthy eating service. The full list of competitors can be seen here.
* The hashtag for the conference is #TDC15 and there is a livestream available at the website, http://www.thinkingdigital.co.uk.
Sarah Hartley will be reporting from the event @foodiesarah