10 April 2015
Salford student games developers impress Microsoft boss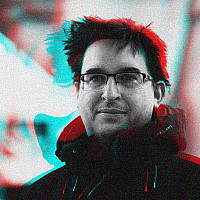 A team of games developers from the University of Salford were runners up in a national technology competition, run by Microsoft.
Warren Burke, Erik Le Good, Robert Harrison and Lewis Markey created Flatliners, a game based on "speed running."
Produced under their company name of Triple Ox, the aim of the first person game is to run as quickly as possible between two locations in the quickest time possible, while fixing "game glitches" and exploiting built-in cheats.
The judges of the Imagine Cup included Micosoft UK MD, Michel van der Bel and developers, Mike Bithell and Byron Atkinson-Jones.
"The team has come out of the one of the strongest year groups we've ever seen. Their motivation, drive, creative spirit and technical ability are an inspiration. The team's entrepreneurial ambition is developing at an astonishing pace and we look forward to following their inevitable commercial success in the very near future," said Mick Lockwood, lecturer in digital design at the University of Salford.
As a result of the competition, Triple Ox has been given an Xbox developers' account, so the team can create games for the Xbox platform worldwide.
The game's official launch is planned for January next year.