08 April 2015
Digital expertise being passed on with mentoring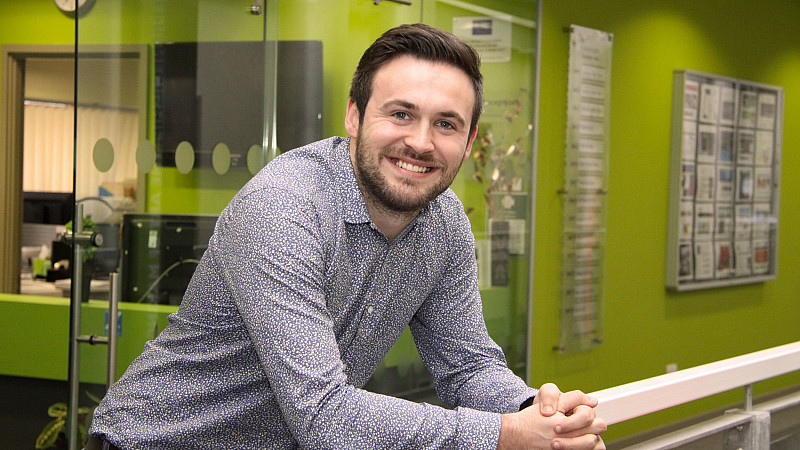 Daniel Fisher
A student who started a business while on holiday is celebrating four years of successful operating and is helping other would-be business people in Lancashire.
Daniel Fisher graduated from he University of Central Lancashire (UCLan) to set up his own business four years ago and has since completed a business merger and opened a second office in London.
Now he is sharing the secrets of his success with other would-be business-owners. Working with UCLan's business support programmes MORE and Northern Lights, Fisher is helping to shape digital businesses of the future.
"UCLan was where it all began so I'm enjoying being able to give something back and help others. There are lots of very experienced mentors on the programme who have worked in business for a long time so at first I was surprised to be asked as I'm relatively young. However, I think the younger generation has a lot to offer the business world, we've grown up around digital media and I'm helping people to use those skills to get results."
Fisher launched Howdan Marketing in 2012 after coming up with the idea while on holiday from a regular marketing jon in Accrington. He built up a reputation for helping small companies grow and the company ended up working on a number of projects with Digital Dog Software, an app development company also based in Preston, before merging the two to become Blush Digital.
To date Fisher has mentored companies such as another digital agency and a video production company, and is currently working with international student applications system Centurus, which won the Best Digital prize at Lloyds Bank Enterprise Awards 2014.
He said: "It's really about stopping businesses making mistakes, such as under-pricing themselves. When a business is new it can be tempting to offer low prices but it won't help you to grow in the long run. I want to help businesses avoid these pitfalls and get ahead, because being successful in something you care about is a great feeling."
Business advisor for Northern Lights, Lateef Badat, said: "Business is changing and the explosion of digital has a significant impact on businesses. Digital natives like Daniel understand this impact and most importantly, how it affects the behaviour of customers. Expertise like his are vital for business growth in a digital age, and he is a valuable addition to both the MORE and Northern Lights programmes."