26 August 2014
What I've Learnt: Al Mackin, founder of theEword and Formisimo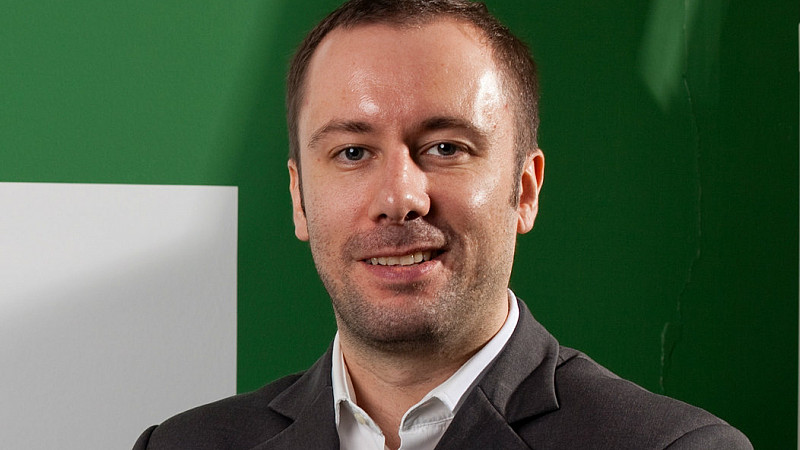 "I started programming at a very early age, just simple stuff, games really. But I just loved it and I still do. Sitting on my own in a room creating and building a product - it's something I enduringly love."
Al Mackin has been a programmer and publisher, he's worked in-house and as a freelancer but for the past eight years, he's been running digital agency theEword and most recently his online analysis company, Formisimo.
The 36-year-old was born and raised in Bishop Auckland in the North East and at the tender age of six his parents bought him a computer. They thought it was the future. He's hugely indebted to them.
He learnt quickly and intuitively and started programming games to entertain himself. It's stuck with him for life.
He went to Manchester University to read computer sciences but after a couple of years he became "a bit disengaged and a bit bored", so he got himself a part-time job with Manchester.com as a junior web designer and decided to give up university.
While at Manchester.com, he and his peers spotted a gap for a nightlife site so they built a completely new site which they called ManchesterAfterdark.com - and 18 months after launch the site had over 10,000 registered members. For a young programmer, says Mackin, "and bear in mind I'm a bit geeky, it was a good place to be".
They had a rival at the time, WhatHappenedLastNight (WHLN), but it was running out of steam, and spurred on by the success of MAD, Mackin quit Manchester.com in 2002 and bought WHLN for £350.
The site made renewed progress under Mackin's care but after two years, he felt in need of a change. "Revenues were increasing, primarily through affiliate deals, but I decided to put WHLN into the background because I needed to do something new and more taxing."
So he joined Celltalk PLC, an AIM-listed company, as head of e-commerce. "It was a big step up for me and I loved it."
Time to go it alone
But it also became a challenging time. In 2006 Celltalk moved its UK operations to South Africa. Mackin had been working with a colleague called Tom Glass and between them they decided the time was right to form their own company focusing on PPC (pay per click); the newco was called theEword.
One of theEword's first big clients was a company called IGT (International Gaming Technology), a US company. On the back of that account, Mackin and Glass were able to start developing the business much faster than envisaged on the back of a larger and regular income stream. There was an element of luck, concedes Mackin, as IGT was looking for a small agency, one that would offer them a bit more of the principals' time "which in this case was me and Tom".
Initially Mackin and Glass held 50% each but in 2009, a client, Incom, bought a stake of 15% equally from the two founders. The investment allowed Mackin and Glass to realise a bit of cash for themselves personally while the investment also brought with it one of the Incom directors, Dennis Slattery, its FD, who joined theEword's board and added some financial muscle.
"The combination of IGT and the new financial reporting structure we introduced really did sharpen us up a lot and it led to a particularly busy period in our lives."
Clients at the time included Buckingham Bingo and Managed Communications (later bought by Daisy Communications). Staff numbers rose to 10 and they moved from a space within Incom's office to their own dedicated office in Trafford Park in 2010.
In addition to the new skills that Slattery brought, Mackin still wanted to "seek additional strengths on the strategic side". So he went out looking for a non-executive chairman.
"I'd come across a chap called Chris Sheffield from Million-2-1, which was part of IGT, and we approached him. I'd known him for a couple of years and in due course he became our chairman, spending two days a month in the business and he took a minority stake."
Unfortunately about six months after Sheffield started, he was offered the chance to join Betfred's emerging business operation in Gibraltar which was too good an opportunity to turn down.
"It was actually the right thing to do for Chris without a doubt, but I personally found it very sad because I had increasingly seen him as a business mentor as well as a friend."
Quantifying the real value of board composition
Chris retained his stake of 2.5% but stepped down from the board in early 2011. When he left, Mackin reconsidered the structure of the board and decided that the board should be focusing on two key things: solving problems and quantifying opportunities for growth.
Dan Nolan
Around that time, theEword recruited Dan Nolan as general manager. He was just 25 at the time, a "very young appointment" and Nolan, now promoted to MD, has subsequently acquired 4% of the equity.
With Nolan now running the show, Mackin moved to CEO and since last autumn has been primarily focused on Formisimo.
In parallel with the changes last summer, Mackin also bought Incom's stake of 15%, taking his stake in theEword to 55%.
"We'd learned a lot from Chris, especially when you have got such a young board, but in particular we had learned how to use the valuable two or three hours of every board meeting looking at challenges rather than patting ourselves on the back. We still hold monthly boards but the board shape has changed. Natalie Booth (a recent departure to iProspect) was promoted to the board as head of search and the former Amaze and Click Consult executive Liane Grimshaw joined as a non-exec director.
In May 2013 the company spun its in-house analytics tool Formisimo off into a stand-alone company. Mackin and his team quickly realised that this new product had a great potential of its own - particularly once they'd seen the response of the casino company, Genting, an enthusiastic early adopter of the new product.
Formisimo's Tom New (left) with Mackin
Having busied themselves with Formisimo during 2013, things really hotted up at the back end of 2103 and early 2014 as they ramped up activity and sought external investment.
The timing chimed with Nolan, who wanted a chance to run the business, and Mackin added: "I was really keen to see how he could do and the business has indeed developed well under Dan's guidance and leadership.
"We also decided at the same time to reshape the business and turnover, having risen to around £2m, had become less profitable than we wanted so we changed the focus of our activities which led to revenues falling to around £1.5m but with higher profitability."
The focus is now on PPC and Mackin says turnover is now rising again and staff numbers have increased on the back of better margins, with 38 staff now employed.
Last December, they turned down private equity from an investment company for Formisimo. "It was very tempting but actually we decided that the culture wasn't there between the investment people in London and us. But we were patient and stuck it out until we found what would be a better fit, and in May this year the North West Fund for Digital and Creative invested £350k in Formisimo. I guess our investment proposal was aided by the fact we had something like 1,000 customers."
Formisimo has now moved out of theEword's Trafford Park operation to a dedicated new operation at Salford Quays, and the plan is to increase the headcount to around 15 in due course.
Tom Glass left in June 2013 to go travelling but he kept his shares and Mackin felt that with two of his major shareholders no longer in the business full-time, he needed to make sure decision-making remained quick and decisive. So he initiated the conversation with Slattery, which led to Mackin buying back the outstanding 15% equity stake.
As to the future, Mackin says they are now consistently recording record revenues but he discounts a sale of the agency. "I don't see anything imminent. It's hard. Right now everyone is very happy in the business and it's growing, but there is nothing set in stone.
"The key to our success has been to get the right fit of people at every level throughout the business. Looking at the board composition, it helps to have people who challenge you, but in the longer term they also need to be in tune with you rather than against you.
"There are several people who I owe a lot to including Phil Jones at Brother, Gary Oakes and Stephen Bloomfield. They've helped advise and guide me through challenging times.
"Cultural and personal differences always come into play - you can't help that. But as long as they're in tune with you, ultimately it will work through. My dad always told me to get on and do it if I really wanted to do it, and that's something I've always followed. I don't mope around but I simply get on with it, and if we really want something we go for it – and usually we succeed."
Other subjects in our What I've Learnt series include Lou Cordwell, Neil McKay, Nicky Unwsorth, Jim Smith, Cat Lewis, Nick Porter, Katrina Michel and Karen Gee.