22 August 2013
Manchester experts join Social Media is Evil debate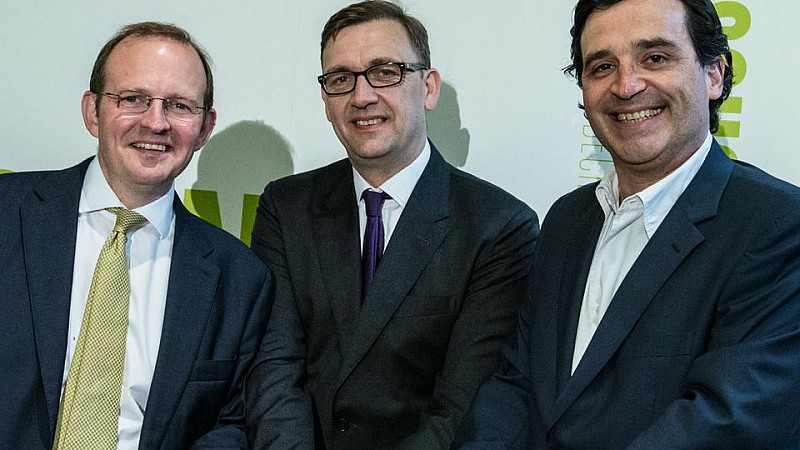 A new debating forum to celebrate "Manchester's intellectual curiosity" has been set up by True North boss, Martin Carr; Mike Emmerich, the chief executive of new economy Manchester and Michael Taylor, chairman of Downtown Manchester.
Emmerich, Taylor and Carr
Following 2 pilots, Discuss starts for real in September with a debate entitled: "Social Media is Evil. Discuss."
"Discuss takes its inspiration from Manchester's celebrated history in progressive thinking, invention and the free trade of ideas," explained Emmerich.
"It seeks to both capture and respond to the social and political zeitgeist, which so often foregrounds frustration, general apathy and distrust in government and public structures, but which has also seen unprecedented interest in literary festivals, popular science programmes and political broadcasting, the meteoric rise of Twitter and Facebook as outlets for self expression, and the emergence of the online petition as a tool for civic engagement and political activism."
Confirmed speakers for the debate include Amanda Coleman, head of communications for Greater Manchester Police; media lawyer Steve Kuncewicz, Dave Edmundson-Bird from Manchester Metropolitan University and Anna Wilson, head of social media at Tangerine PR.
"This is a very exciting project with Manchester at its core. We have been supported by Marketing Manchester and other businesses in the city, we are now looking for sponsors to align themselves with a community of engaged thinkers and the city's intellectually curious," added Taylor.
"We have already attracted high profile and relevant speakers from the worlds of politics, academia and creative innovation. This is an opportunity for sponsors to engage at a high level with leading thinkers from this city and beyond."
The Discuss name and brand has been developed by True North, with Journey9's Sam Hughes creating the website. The promotional video was produced and directed by Video News Agency's Daniel Kennedy.
You can book tickets for the first event on September 18th on the Discuss site.