18 July 2016
Sky 1 returns to RED Production Company for Harlan Coben follow-up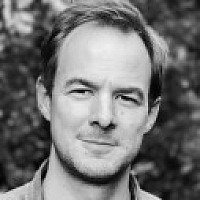 RED Production Company has been commissioned by Sky 1 to make a new crime series from bestselling author Harlan Coben.
The Four, an eight-part thriller, follows Coben's first original story for TV, The Five (pictured above), which debuted in April on Sky 1.
It tells the "chilling story of an idyllic family community irrevocably shattered by secrets, lies, suspicions and misguided trust".
Harlan Coben
The series was commissioned by Sky's head of drama Anne Mensah, commissioning editor Cameron Roach and director of Sky 1 Adam MacDonald.
Coben said: "I am incredibly proud of what we all achieved with The Five. Our goal from the start was to create a gripping crime drama that moved you, surprised you – and had a shocking and emotionally satisfying ending.
"I never wanted to make a sequel to The Five - that story has now been told - but rather, to start fresh and bring a whole new crime drama to the screen. Working with Nicola and Sky again was essential to ensure that creatively, The Four is brought to life in the way that we have imagined."
Nicola Shindler, founder of Manchester-based RED Production Company, added: "Working with Harlan on The Five was a fantastic experience and I am incredibly proud of what we created. When Harlan told me about the premise for his latest story many months ago, I knew that it would be just as addictive viewing as The Five. As with all his work, it is utterly intriguing, totally immersive and completely character-driven."
The Four is an original story created by Harlan Coben and written by Danny Brocklehurst (Clocking Off, Ordinary Lies, The Driver, The Accused). Executive producers are Harlan Coben, Danny Brocklehurst and Nicola Shindler for RED Production Company.