07 May 2015
BBC to remember Bradford City Fire in radio documentary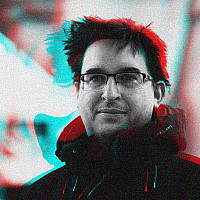 BBC Radio Leeds has produced an hour-long documentary remembering the Bradford City Fire, which tore through Valley Parade 30 years ago.
It will be narrated by life-long Bradford City supporter and former Emmerdale actor, James Thornton.
James Thornton
"I don't think anyone will forget what happened at Valley Parade and hopefully the changes that have been made since then will ensure it never happens again," he said.
"I narrowly missed out on being at the match that day and listened in horror on the radio as events unfolded. Being involved in the BBC documentary was a moving and emotional experience but one that was important to me to be a part of."
Valley Parade: The Bradford City Fire Remembered will hear stories from players, fans, victims and medics.
"This was a tragedy, the effects of which are still felt 30 years on in Bradford and changed the future of the club, the City and British football as a whole. We felt it was important the story of this sometimes forgotten dreadful event was told on such a landmark anniversary and the victims and affects always remembered," added Gareth Jones, BBC Radio Leeds sports editor.
It will be broadcast on BBC Radio Leeds at 12pm and then nationally on Radio 5 Live at 8pm this Sunday (May 10th).
"The programme made by BBC Radio Leeds is a fitting tribute to those whose lives were lost in the fire and includes some heartfelt accounts from key figures such as Bradford City captain of the day Peter Jackson, Club legend and player that day John Hendrie; and Lord Popplewell who oversaw the inquiry," said Richard Maddock, commissioning editor, BBC Radio 5 live.
"Valley Parade: The Bradford City Fire Remembered is not just about reflecting on the 30th anniversary but also explores how the fire changed the future of Bradford and football stadia across the country."
On the anniversary itself, Monday 11th May, Radio Leeds and Radio Lincolnshire will hold a simulcast show, broadcasting the remembrance service live from Bradford's centenary square.