20 January 2015
Good night for Yorkshire at Writers' Guild of Great Britain awards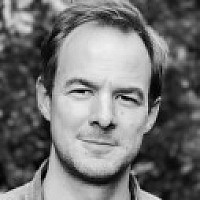 It was a good night for Yorkshire at the Writers' Guild of Great Britain annual awards, which took place in London last night.
Leeds-born screenwriter Kay Mellor, whose credits include Fat Friends, Band of Gold and The Syndicate, received the Oustanding Contribution to Writing award.
Sally Wainwright
Writer Sally Wainwright, who presented the award, said she was the "prolific talent behind some of the most powerful, engaging and successful British television dramas of the last 20 years".
She added: "To be in Kay's orbit is to be blessed and energised by her absolute passion for drama and her belief that you really can do anything you set your mind to."
Huddersfield-born Wainwright was herself recognised in the ceremony at RIBA, picking up the prize for Best Long Form TV Drama for her BBC One smash hit Happy Valley, which was produced by Red Production Company.
Stockport-born writer Peter Bowker, best known for Blackpool and From There to Here, won Best Short Form TV Drama for Marvellous.
Writers' Guild Awards 2014 winners:
Best Long Form TV Drama
Winner: Happy Valley by Sally Wainwright
Shortlisted: Line of Duty by Jed Mercurio, Peaky Blinders by Steven Knight
Best Short Form TV Drama
Winner: Marvellous by Peter Bowker
Shortlisted: The Great Train Robbery by Chris Chibnall, Turks & Caicos by David Hare
Best Long Running TV Series
Winner: Holby City, "Self Control" by Rebecca Wojciechowski
Shortlisted: Doctors, "Silver on the Hearth" by Toby Walton, Doctors, "Boiling Point" by Dale Overton
Best TV Situation Comedy
Winner: Him and Her by Stefan Golaszewski
Shortlisted: Up the Women by Jessica Hynes, House of Fools by Vic Reeves & Bob Mortimer
Best Children's TV Episode
Winner: Bing: "Bye Bye" by Denise Cassar & the Bing Writing Team
Shortlisted: Wizards Versus Aliens, "The Thirteenth Floor Part 2" by Phil Ford, Strange Hill High, "MCDXX Men" by Mark Oswin & James Griffiths
Best Radio Drama
Winner: A Night Visitor by Stephanie Jacob
Shortlisted: Magpie by Lee Mattinson, Dangerous Visions, "The Bee Maker" by Anita Sullivan
Best Radio Comedy
Winner: The Brig Society by Marcus Brigstocke with Jeremy Salsby, Toby Davies, Nick Doody, Dan Tetsell & Steve Punt
Shortlisted: Helen Keen's It is Rocket Science by Helen Keen & Miriam Underhill, John Finnemore's Souvenir Programme by John Finnemore
Best First Novel
Winner: The Shock of the Fall by Nathan Filer
Shortlisted: A Girl is a Half-Formed Thing by Eimear McBride, Barbarians by Tim Glencross
Best Writing in a Video Game
Winner: 80 Days by Meg Jayanth
Shortlisted: A Machine for Pigs by Dan Pinchbeck, Schrödinger's Cat and the Raiders of the Lost Quark by Kevin Beimers
Best First Screenplay
Winner: Starred Up by Jonathan Asser
Shortlisted: Pride by Stephen Beresford, The Selfish Giant by Clio Barnard
Best Screenplay
Winner: Metro Manila by Sean Ellis & Frank E Flowers
Shortlisted: Filth by Jon S Baird, Philomena by Jeff Pope & Steve Coogan
Best Play
Winner: James I by Rona Munro
Shortlisted: Visitors by Barney Norris, Dr Scroggy's War by Howard Brenton
Best Play for Young Audiences
Winner: Girls Like That by Evan Placey
Shortlisted: Minotaur by Kevin Dyer, The Boy Who Cried Wolf by Mike Kenny