06 August 2014
New filming law opens up town halls to press and public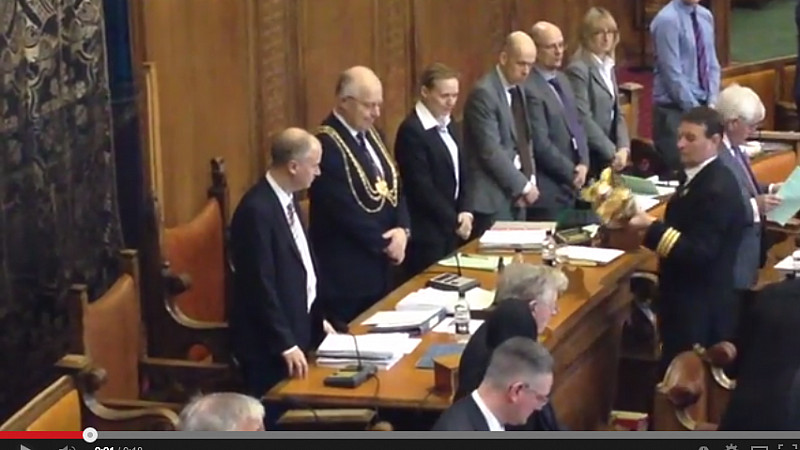 Inside Leeds Council
Bloggers, journalists and members of the public now have the right to film and record the public meetings of their local council.
In a long-awaited move, Local Government Secretary Eric Pickles has now signed the parliamentary order which will require a change of approach inside some northern town halls who've been resistant to letting the cameras in to date.
The former Bradford council leader evoked the spectre of Margaret Thatcher as he made the announcement saying:
"This new law builds on Margaret Thatcher's successful Private Members' Bill from 1960 which allowed for the written reporting of council meetings by the press. The new rules will apply to all public meetings, including town and parish councils and fire and rescue authorities.
"Local democracy needs journalists and bloggers to report on and scrutinise the work of their council, and increasingly people read their news via digital media.
"The new 'right to report' goes hand in hand with our work to stop unfair state competition from municipal newspapers – together defending the independent free press.
"There is now no excuse for any council not to allow these new rights. Parliament has changed the law, to allow a robust and healthy local democracy. This will change the way people see local government, and allow them to view close up the good work that councillors do."
In many places, campaigners have already won the right to film, tweet and otherwise relay local decision-making ahead of this legislation.
One of those is Leeds City Council where a hard-fought campaign by The Leeds Citizen blog and the city's three journalism schools resulted in permission to film being granted in March.
Following today's announcement, we understand that Leeds Trinity University is planning to take its coverage a stage further by organising students onto a filming rota for key meetings and providing the raw footage to any outlets who want to use it. More announcements are expected on that after the summer.
But despite the clearly signalled direction of this new law, some councils had been resisting the cameras to date and will now find themselves unable to prevent any interested members of the public arriving with phones, cameras and recorders.
Keighley Town Council was one such authority which hit the headlines after 11 local people were evicted by police officers for filming.
The mayor at the time, Sally Walker is today reportedly maintaining her personal opposition to the moves, telling the Telegraph and Argus: "With regards to the new law, I think it will put people off standing for the council in the future, knowing that whatever they say or do will be broadcast. It doesn't give people much scope for discussion."
And it was a similarly cool response on the Wirral this morning where the council was criticised by Pickles after it banned filming of a planning committee on grounds it would 'compromise health and safety' – a reason described as 'spurious' by the minister.
The Wirral Globe reports that Wirral Council's strategic director for transformation and resources, Joe Blott was 'considering the practical implications of the legislation.'