18 July 2014
Former BBC and Granada journalist named as victim in Malaysia Airlines crash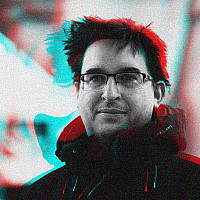 Glenn Thomas, a former BBC and Granada journalist from Blackpool has been named as one of the victims of the Malaysia Airlines crash.
He began his career working for the free paper in the town, before joining Granada Television and later BBC news in the 1990s. He had since moved to the World Health Organisation as media relations co-ordinator.
Today Aziz Rashid, head of BBC North West told Prolific North:
"I am shocked and saddened to hear about the death of Glenn. He was a great colleague and a real gent. I've been talking to friends who knew him this morning and remembering what a fun loving person he was. We worked on the American election in Washington in 2000 when there was no result on election night in the Bush Vs Gore battle. It was incredibly busy and stressful but we all had great fun doing it.  "
Those comments were echoed by  Richard Porter, controller, English, Global News:
"This is a terrible tragedy and our hearts go out to Glenn's family. He was a much loved and respected colleague and the BBC World News team are reeling from this very sad news about their friend,"
"I first met him on the BBC's News 24 channel where he worked as a producer. He was always passionate about telling the stories that mattered and could always turn his hand to whatever was asked. But most importantly he was a genuinely nice man. Glenn's commitment to BBC journalism was only matched by his interest in humanitarian issues and I hope it's of some comfort to his loved ones that what we valued about him here is being echoed by his colleagues in that field."
He was believed to have been travelling on board flight MH17 to an International AIDS conference in Melbourne.
"We lost a great colleague on the MH17 flight: Glenn Thomas. Member of my team. He will be so missed. Glenn was so good at what he did and brought such a positive atmosphere to the world. He, his laugh, his being are sorely missed," wrote Gregory Hartl, the head of public relations and social media for WHO on Twitter.