09 May 2014
Cannes screening for Manchester horror White Settlers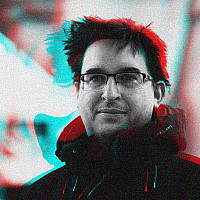 Director, Simeon Halligan is to screen his new film, White Settlers to distributors and film festival programmers in Cannes next week.
Halligan, who's also the boss of film festival, Grimmfest, described the movie as a "nightmarish tale" of a couple who escape from the city to a remote cottage in Scotland, but they find they're far from welcome.
Filmed on location in Manchester and the Peak District (which stands in for Scotland), the post production was done at Timeline TV and Carbon Digital at MediaCityUK.
"This a great success for the region's film making community. The film was financed and produced entirely in the Northwest and was only completed a few weeks ago," said Halligan.
"We screened the finished film to a number of international sales companies , many of whom wanted to represent the film at Cannes, but we felt Metrodome International put up the best offer, they really know how to sell this kind of movie, having previously handled films like Lesbian Vampire Killers and Dog Soldiers."
He also praised the local film and television talent which meant that a "Hollywood quality feature" could be made at a fraction of the cost.
"The film has so far only screened to film distribution companies, the cast, crew and investors but already people want to come on board our next movie, pledging investment and involvement because they love what we've done with White Settlers," added producer, Rachel Richardson-Jones.
"We're so pleased. We plan to start the next film this summer, its a very funny comedy horror that will star the cream of new British comedians'.
The cast includes Pollyanna McIntosh (The Woman, Bob Servant Independent), Lee Williams (The Tudors) and Joanne Mitchell (Before Dawn).
White Settlers is slated for a UK release later in the year.