23 January 2014
New £10m drama production hub to be called The Space Project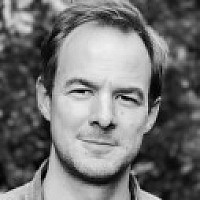 Manchester's new 360,000 sq ft drama production hub is to be called The Space Project.
The name reflects the actual space on offer at the £10million East Manchester facility, which will include 55,000 sq ft of dedicated studio space split into five purpose-built, sound-proofed production stages.
The new Space Project logo
Led by The Sharp Project's Sue Woodward CBE, it's aimed at long-form productions and is due to open in May.
Funding for the scheme was set aside in 2012 ahead of Manchester City Council's decision to establish a "mother brand" for its three digital assets - The Sharp Project, One Central Park and the new drama hub, which occupies the former Fujitsu building in West Gorton.
The visual identity for The Space Project has been developed by The Sharp Project, Alastair Weir at PRP Architects and graphic designer Malcolm Garrett. It will have its own logo but sit within the branding already created for The Sharp Project.
Garrett said: "There is a built-in graphic flexibility that allows for current and future expansion of the 'Project' family. The Space Project has its own distinct brand mark, but by using type and colours in the same way it will be instantly recognisable as part of a bigger story."
In addition to the production space, the building will house construction workshops, prop stores and flexible office space for short and long term production rentals. Five new SharpFutures apprenticeships will be created and, when fully let, up to 500 people will be employed on site by production companies and tenants.
An internal shot of the new hub
Woodward added: "It's important for the region's economy to capitalise on the UK's expanding drama production sector which, in part, is driven by tax breaks introduced by the Government last April 2013.
"The Space Project creates a new offer for the North of England that will generate interest from producers and broadcasters both in the UK and overseas.
"With so much high spec production and back stage space available it seemed fitting to call the building The Space Project. To have a purpose-built drama stage complex in Manchester is very exciting and will help satisfy the relentless demand for such facilities here in the UK."
A CGI video introduction to the hub, created by The Drawing Room, can be viewed here.