20 January 2014
Critics give Fassbender's Frank Sidebottom film thumbs up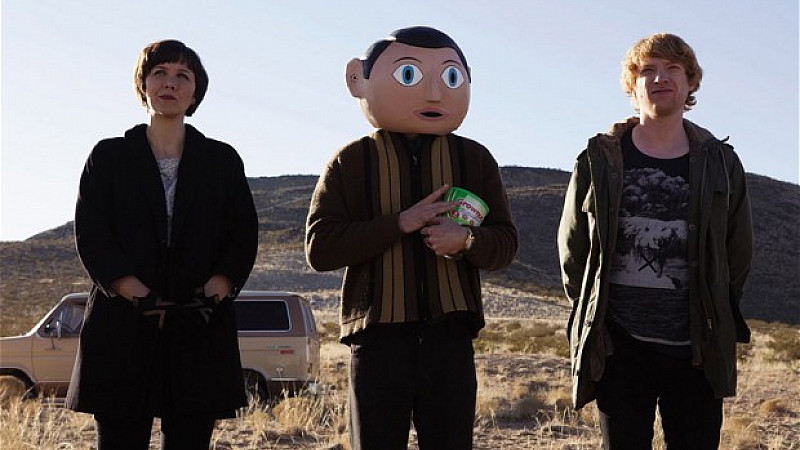 Frank, the new film starring Michael Fassbender, as Chris Sievey's papier-mâché'd alter ego, has received critical acclaim.
Making its premiere at the Sundance Film Festival, the movie is "loosely" influenced by Sievey's Frank Sidebottom.
Written by Jon Ronson (former keyboard player with the Frank Sidebottom Oh Blimey Big Band) alongside Peter Staughan, the duo last collaborated with on Men Who Stare at Goats. It's directed by Lenny Abrahamson.
Promoted as one of the festival's "hot titles" it's been receiving rave reviews and even saw the entire audience don Frank masks at the end of the viewing.
The movie centres around singer songwriter Jon (Domhall Gleeson), who joins up with the eccentric and somewhat mysterious Frank (Fassbender) and Clara (Maggie Gyllenhall), who has issues with controlling her anger. Their manager, played by Scoot McNairy, has a mannequin fetish.
Critics have variously described it as "weird and wonderful" and that Sievey would "no doubt approve of the tone and style."
Variety said that it was probably appropriate that the film debuted at Sundance:
"…the delightedly incredulous crowd was free to discover the character with open minds, in much the way most Americans will experience this affable oddity. Incidentally, open minds are just what "Frank" requires, taking audiences on a journey to the "far corners" of artistic creation."
An official Frank Sidebottom documentary, funded through Kickstarter is currently in production. Slated for a cinema release later this year, Being Frank, The Chris Sievey Story is directed by Steve Sullivan and backed by Sievey's family.
Chris Sievey died in 2010 after losing a battle with cancer