21 November 2013
Manchester could overtake LA as media hub says The Simpsons' Josh Weinstein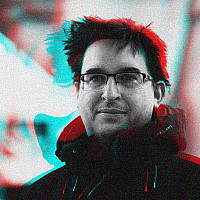 Josh Weinstein, the former writer and executive producer of The Simpsons, believes Manchester has the potential to overtake Los Angeles as a media hub.
He made the observations during an "in conversation" session at the Salford Media Festival.
Talking to Inspiral Carpets' Clint Boon, he told delegates, that Manchester had both the infrastructure and talent to claim its place as the new centre of animation and scriptwriting excellence.
Josh Weinstein
Rather than moving to London or LA, he advised anyone looking to develop their career in the sector should stay in Manchester.
"Since my college years, when I became a huge fan of Manchester bands such as The Smiths, Joy Division, the Inspiral Carpets, the Stone Roses and James, I've known that Manchester is an incredibly creative and inspirational place," he said.
"It was the birthplace of the Industrial Revolution and now I see it as being at the heart of a new revolution in the media industries, particularly animation. Manchester has such a proud history in animation, with such companies as Cosgrove Hall."
Weinstein is currently the executive producer on new CBBC series, Strange Hill High, which is being made by Factory Transmedia in Altrincham.
"I don't think a show as innovative as Strange Hill High could get made in LA as people would be afraid to take that risk. In contrast, in the UK I've found there's a spirit of excitement and encouragement in trying new ideas. This spirit is particularly alive in Manchester."
He was one of 3 keynote speakers at the Salford Media Festival which has been hosted at the University of Salford's MediaCityUK campus.
Tomorrow (Friday) will be dedicated to 100 workshops, masterclasses and panel discussions for aspiring media professionals.
"The Festival so far has been immensely enjoyable, with a wide range of delegates from across the media sector experiencing exciting and extremely thought-provoking presentations and panel debates among experts at the forefront of what they do," said festival content director, Professor Seamus Simpson.
"Our building at MediaCityUK has again shown itself to be a great venue for a large event of this kind, providing Festival-goers with a great setting in which to exchange ideas and thoughts on the current state and likely future development of the media sector. We're looking forward to using the experience of hosting this week's Festival as the basis for future events."