28 October 2013
Hellraiser writer Barker could film new project in Liverpool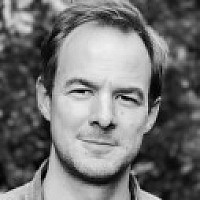 Horror writer Clive Barker, the creator of the Hellraiser and Candyman series, has said he is hoping to film scenes from a forthcoming adaptation of his Weaveworld novel in his home city of Liverpool.
Barker, who now lives in Los Angeles, contacted the organisers of the Liverpool Horror Festival - which starts on Thursday - to thank them for a reworking of his Hellraiser demons in the event's promotional poster.
A poster for the Liverpool Horror Festival
A film of television adaptation of Weaveworld has been mooted for many years, and Barker revealed he would seek to base some of the filming in Liverpool should the project get the final green light.
He said: "I love my home city. It shaped me, body and soul. If the production of Weaveworld as a mini-series goes forward, then I will do all in my power to shoot the exteriors in Liverpool."
Praising the festival's poster - designed by artistic director Ilan Sheady - Barker added: "I have seen thousands of graphic representations of the Hellraiser demons over the years. This is one of the very best. What a witty, elegant stylisation of Pinhead and the gang. My heart-felt thanks."