07 June 2013
Cornerhouse celebrates exploitation films with Rough Cut documentary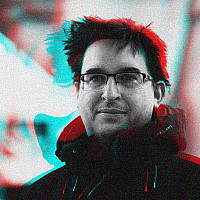 The Cornerhouse is filming a documentary looking at the exploitation film genre of the 60s and 70s.
But it's with a twist, Rough Cut is about the making of an imagined 70's exploitation film called Hiker Meat.
Artist, Jamie Shovlin collaborated with writer Mike Harte and composer Euan Rodger to produce a full screenplay for Hiker Meat, before creating a prototype by collaging over 1500 clips. The beginning and end sections of it and a "film trailer" will be recreated shot-by-shot for inclusion in the documentary, along with fly-on-the-wall production footage and interviews with cast and crew.
"Although most exploitation films might be considered poor in terms of form and motivation, I can't help being inspired by the danger they posed and the potential the genre offered," said Shovlin.
"There was a spirit of collaboration and a 'can do' attitude towards film producing and distribution that are also common to my project: people believing in an idea to the extent that they somehow make it happen, regardless of practicalities and funds."
The exploitation genre was all about producing feature films on low budgets and the results were usually panned for low moral or artistic merit - generally exploiting lurid subjects including sex, violence and gore - but they boomed in the late 60s and 70s.
Rough Cut/Hiker Meat will be filmed in and around Grizedale Forest, which stands in for an American summer camp. Shovlin promises the standard horror and slasher cliches will be included, including the hitchiking girl with a troubled past, a group of good looking teens exploring dark cellars, on-screen destruction and a "monstrous presence."
It's the third release by Cornerhouse Artist Film, but the first produced in-house (by Bren O'Callaghan and Sarah Perks).
The Hiker Meat exhibition will run from 18th January - 21st April next year, the documentary itself will be released at the end of the year.